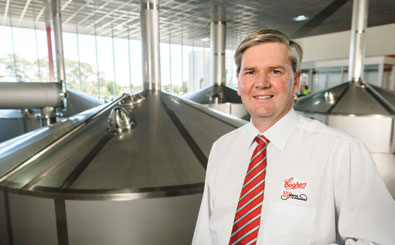 Coopers brewery has ended the 2015 calendar year in record territory, boosted by strong sales of Coopers Original Pale Ale and Mild Ale 3.5%.
For the 12 months to 31 December, 2015, Coopers sold a record 80.7 million litres, a 4.4 per cent increase on the 77.3 million litres sold in the 2014 calendar year.
Coopers' flagship product, Coopers Original Pale Ale, continued to perform strongly, with national sales rising 3.2 per cent during the year. It now accounts for a whopping 52 per cent of Coopers' total beer sales.
Mild Ale 3.5% enjoyed a 13.7 per cent increase in sales during 2015 and is now Coopers' third largest product by volume behind Sparkling Ale, which recorded growth of 1.8 per cent for the year. Impressively, Coopers Stout sales rose by 8 per cent for the year.
Managing director, Dr Tim Cooper, said the 2015 results had been especially pleasing, given the continued overall fall in beer consumption in Australia.
"While Australia's total beer consumption has fallen almost 10 per cent in the past six years, despite a growing population, Coopers' sales have been on a solid growth trajectory for the past 22 years," he said.
"The latest results mean Coopers now has 5 per cent of the total Australian market.
"The eastern states continue to be Coopers' major area of growth, with total sales in Victoria, NSW and Queensland growing by 7.4 per cent during 2015. Western Australian sales grew 5.5 per cent.
"In our home state South Australia, which is a far more mature market, sales remained steady and now represent more than 24 per cent of total volume sold."
Dr Cooper said sales had also been boosted by Coopers' international beer portfolio.
"Sales of Sapporo were particularly strong during the year, growing by 50 per cent," he said.
"This result has been achieved by growing distribution of Sapporo through different channels, aided by the appointment of a beer ambassador who has been working strongly in the Asian restaurant trade.
"Carlsberg and Kronenbourg products also performed strongly, rising 7 per cent during the year."
Dr Cooper said an agreement with US craft brewer, Brooklyn Brewing came into effect late in 2015, but had only had a minor impact on results, although early sales had been strong.
Sales of Thatchers Gold cider, which is distributed in Australia by Coopers, rose 37 per cent during the 2015 calendar year.
For the six months to December 2015, Coopers' sales grew 4.5 per cent over the previous corresponding period.
Dr Cooper said Coopers was looking forward to achieving 23 years of growth by the end of the current financial year. This would also be supported by the release of Carlsberg 3.5% mid-strength lager in February.
Coopers Calendar Year Beer Sales:
Year       Volume (litres)
2015       80.7 million
2014       77.3 million
2013       72 million
2012       68.8 million
2011       62.7 million