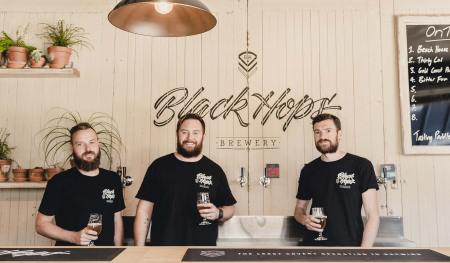 As the Gold Coast's Black Hops Brewery look back on their first financial year out of six where they haven't lost money they're sharing the secrets they wished they'd known when they started out in 2014.
Following on from their 2016 book Operation Brewery, that documented the ins and outs of starting up a craft brewery on a budget, CEO and co-founder Dan Norris has written and released a follow up called Top 11 Lessons Building a Brewery and Navigating the Valley of Death.
The free e-book can be read and downloaded here.
"I wish I knew then what I know now that's for sure," Norris told Beer & Brewer (pictured above on the right with fellow founders Eddie Oldfield (left) and Michael McGovern).
"You don't look back and wish anything was different really – the journey has been invaluable. But it would have been great if there were more resources around like this book when we were starting out. Going from home brewing to actually running a brewery is pretty damned scary."
The release charts the insights and learnings Black Hops have experienced as they've grown from their original Burleigh Heads site, that could produce approximately 500,000 litres of beer, to now also running another production brewery and taproom in Biggera Waters, that has upped their potential output to "the millions of litres mark". Or in their own words: "on the other side of the brewery valley of death – the unprofitable void between a small brewery and taproom and a larger scale craft beer brand".
The 11 lessons covered in the book range from the importance of a strong brand and regularly tracking progress reports to funding and finance options that Black Hops undertook as well as the value of running taprooms and building community support.
"Running an independent brewery, you are always on a knife's edge. Small mistakes can throw you off course significantly and they are hard to see coming," Norris said.
"We're on the right side of profitability now but there have been times when we were losing so much money every month. Even though it's a really stressful time, it's really important that you chart that process and I think by looking at what we've been through will be good for some people out there."
The book closes with Black Hops' insights into navigating "the valley of death" when they made the decision to expand their output by starting the second production brewery and taproom.
"It's not just about more beer, it's a whole new level of manufacturing efficiency, equipment, quality and staff," Norris said.
"Looking back, we wouldn't do anything differently because we've ended up with an awesome brewery and taproom at both ends of the Gold Coast. But it was a very stressful period and if you wanted to avoid that I suspect it would be easier to initially find a site that you can grow into, (with) at least one to three million litres, at which point hopefully you can run that business profitably."
Contact Beer & Brewer by clicking here to share your news and views.