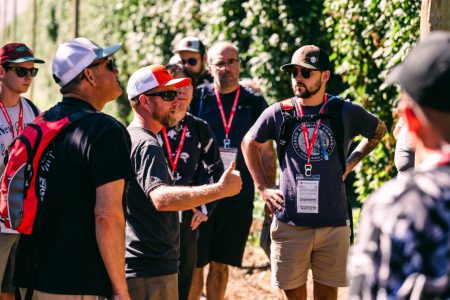 Hop supplier Yakima Chief Hops (YCH) are for the first time inviting the world to this year's harvest for a month-long virtual festival that even has an Australian flavour to it.
September's harvest season is normally the most bustling period of the year for the hop farms in America's Pacific Northwest and each year YCH invite brewers worldwide to experience hop harvest and attend educational seminars in person. This opportunity is typically limited to a few hundred select brewing customers and paid attendees through their annual Hop & Brew School.
However, with the effects of COVID-19, YCH has announced they will instead offer the hop harvest experience for free and to the public, virtually.
Lasting the full month of September, the event will feature different sessions each day which will be screened in different time zones and in different languages to accommodate a global audience.
From technical brewing related seminars on hop usage and recipe formulation, to behind-the-scenes tours of hop farms and production facilities, YCH's Virtual Harvest event is for brewers and beer lovers of all levels. Viewers from across the globe will have the opportunity to witness the labour of love that goes into every pint. And every brewer will have access to the wealth of knowledge it provides.
Australia will be represented at the festival with a session dedicated to the Resilience Beer for Bushfire Relief, where Tiffany Waldron from Mighty Craft and Cryer Malt's Stephanie Howard will be on the panel, Scott Hargrave will discuss how Balter's unique passion for great beer extends back to the hop farms of the Pacific Northwest and local brewers will contribute to a discussion looking into the development and use of advanced products such as Cryo Hops.
"This is a rare opportunity where we invite the world to see where great beer truly begins and meet the talented people that make it happen" said YCH CEO Ryan Hopkins.
"We know that breweries are among the businesses that have been hit the hardest by COVID-19. We want to show our support by offering this event to everyone virtually for the first time ever while keeping our global communities safe."
Highlights of the festival include:
Hazy beers panel discussion: The secrets of the New England IPA and how to brew quality and consistent hazy IPAs.
Q&A with hop historian Ralph Woodall: a weekly session with Ralph as he shares pieces of hop history and answers your direct questions.
Talus Brand HBC 692 and the history of experimental hops: discusses the history of experimental varieties.
To enrol and to view the schedule, head here.
Contact Beer & Brewer by clicking here to share your news and views.