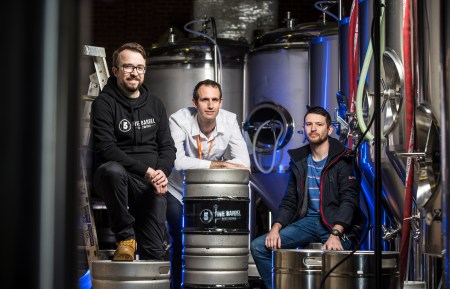 A Wollongong-based start-up, Binary Beer, hopes to improve the supply and quality of draught beer by monitoring the location, storage conditions and fill levels of beer kegs.
The company is based out of the University of Wollongong's (UoW) iAccelerate start-up incubator, and was co-founded by Michael Burton, Binary Beer's CEO, and his wife Brooke.
The technology uses a variety of sensors to collect as much data as possible, providing location tracking so kegs aren't lost, information about storage conditions such as temperature to monitor freshness, and live readings of the fullness of a keg.
"At the end of the day we really care about reducing the loss, damage and theft of kegs and increasing their utilisation while ensuring that their contents are of a guaranteed quality," Burton told Beer & Brewer.
"It's just not worth selling stale beer and until now, brewers have had very little control or insight into how their beer is being treated once it leaves the brewery."
As he explains it, the idea for the technology came about from Burton's combined love for technology and home brewing.
"When I started kegging my own beers I often found they'd run out at the most inopportune of times," he reflected. "You can't see inside beer kegs and it felt like their fill levels were governed more by Murphy's Law than science or logic."
"One night, all of my taps blew dry in consecutive order leaving our guests with no beer and Brooke and I resolved to do something about it, so we joined iAccelerate and quickly built a working prototype that weighed kegs and transmitted that information to an app running on a mobile device.
"You could leave your iPad on your kegerator like a digital tap list that showed which beers where available and how much was left along with metrics about their temperature, age and consumption rates.
"Once we started pitching our idea for 'smart kegs' we quickly realised that monitoring kegs isn't just a home brewer's problem, it's just as problematic in the commercial beer industry on a global scale. With that realisation we decided to 'pivot' Binary Beer with the vision to go global."
Binary Beer are currently trialing the technology with Wollongong locals Five Barrel Brewing and the Headlands Hotel in nearby Austinmer, who have undertaken a trial delivery of the kegs with the smart sensors attached.
"Almost every brewer and retailer we've chatted with has welcomed the opportunity to help out a local startup and take time to help trial the technology," said Burton.
"We've also been contacted by a number of the very large international brewing labels that are actively seeking ways to maintain a competitive advantage.
We're seeing market interest from all levels of the brewing industry from the smallest craft brewers to the largest macro breweries and also from industries outside of brewing."
With plans to eventually spread Binary Beer worldwide, Burton has lofty goals for the groundbreaking technology.
"Tracking kegs and delivering good beer [is a] global challenge and I don't think the value that we can deliver to the brewing industry has been fully realised yet," he said.
"As our technology evolves it won't be a matter of 'if' but 'when' smart kegs will become the norm and the cost of not employing a fleet of smart kegs will make traditional kegs a thing of the past."