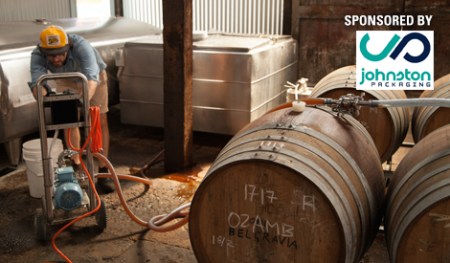 By Deb Jackson, Editor Beer & Brewer
In May 2017, Topher Boehm rolled open the door to Wildflower Brewing and Blending in Marrickville, Sydney, with a concept that was a bit outside of the norm.
Wildflower brews its ales using wild and native yeasts sourced only from New South Wales and the feedback from the industry has been outstanding. So it came as no surprise to the team here at Beer & Brewer that our judges have voted Wildflower as the Best New Brewery.
"We opened and started doing this project that is outside the mould of what other breweries are doing and there is a risk that's associated with that," Boehm explained to Beer & Brewer.
Boehm says the recognition he has been receiving for Wildflower just goes to show that the Australian beer scene is ready to really embrace specialist breweries.
"That is a really important mark that we've hit in the Australian beer market economy. For a place like Wildflower to focus on one thing in particular and the market to be able to support that is a very important distinction.
"I remember in the US when these things started to happen that was when you started to see a lot of breweries, even existing ones, really narrow in on their product line and you'd get a lot of breweries opening that would focus on a specific style of brewing – and I think that's a really exciting signal for the industry.
"It's been really exciting for us, because as much as we had a confidence in our product, you're opening a small business so you never really know how it's going to go and so the fact that the industry has supported us has been exciting but even more importantly someone else that's looking at the industry or another person who is in the industry should be seeing that and be excited about the opportunity in that."
The winners of all 12 awards can be viewed in the Summer Issue of Beer & Brewer which is available at independent bottle shops, homebrew shops and newsagencies nationwide. To subscribe, click here.
The Best New Brewery Award was sponsored by: Johnston Packaging
Johnston Packaging would like to congratulate Wildflower Brewing and Blending on winning the Best New Brewery. It's great to see new talent and such exciting new products coming onto the market.
Johnston Packaging entered the packaging market over 40 years ago, and has been supplying the beverage industry for a good chunk of that time. Being a local manufacturer, we have worked closely with many of the independent brewers that have emerged over that time and continue to work with independent brewers. We are proud of our engagement with those emerging businesses, helping them develop and present their products to market. We are a family-owned business. Fostering relationships and collaborating with like-minded businesses is key to the ongoing success of our business.
Our company has grown from a father and son run business which operated from a small factory, into the sophisticated and dynamic design and manufacturing operation it is today, with the next generation of Johnston's continuing to build on the excellent reputation for creativity and customer service we have always been known for.
Specialising in printed folding cartons, wraps and baskets, Johnston Packaging has established itself in the beverage industry as a business partner to assist bottlers and brewers in the ideation, design and manufacturing of specialised presentation materials.
With in-house design and production capabilities including, a wide range of materials, multi-colour printing, specialty coatings, large and small format die-cutting, embossing, foil stamping and much more, we can facilitate all your packaging requirements.
Coming from humble beginnings allows us to integrate ourselves into your business. We understand your needs, wants and objectives. Let us handle your package needs, thus allowing you to focus on brewing great product.
Johnston Packaging is leading the field in printing and packaging with Imagination.