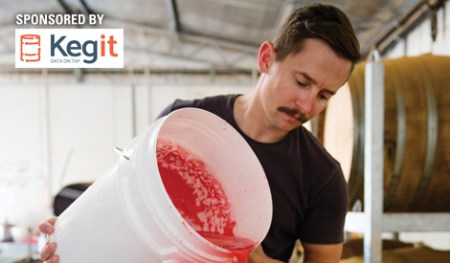 By Deb Jackson, Editor Beer & Brewer
Will Irving from Feral Brewing Co has received the 2018 Beer & Brewer Best Brewer Award.
Irving always knew he wanted to be a brewer, he even put it on his high school careers form. "My teachers kind of frowned upon that because they just assumed it meant I just wanted to drink beer for a living. And I was a kind of a class clown as well, so I don't think they took it too seriously," he told Beer & Brewer.
His journey to brewing began right where he is today, at Feral, which was his local watering hole. He got to know Brendan Varis and says it was very much a case of being in the "right place at the right time". Varis gave him the opportunity to learn the practical aspects of brewing before he went on to study at the Institute of Brewing and Distilling.
We asked Irving a few questions about the beers he has brewed for Feral. Does he have a favourite style to brew? What is the best beer he's ever brewed? And is there a beer that he wished he had brewed. Here's what he said…
"I guess back in the day, Hop Hog – it sounds a bit odd but back in the day it was really one of the first dry hopped American style IPAs to the market, which I guess became a flagship beer for the company.
"But as far as outlandish beers, I'd probably say maybe our King Brown, which was a brown ale brewed in 40-year-old Cognac barrels."
As far as a beer of someone else's that he wishes he had brewed he says that's easy, pretty much anything from Firestone Walker.
"Anything from Firestone Walker I try these days, it just makes you a better brewer. Anything from them is just next level, whether it be the Velvet Merkin, their Double Barrel Ale or their straight IPA, they just do beer so well," he told Beer & Brewer.
Irving's favourite style to brew are barrel aged and sour beers, and he hopes that now Feral is owned by CCA that could open the door to expanding their barrel room.
"It's kind of that long wait where you put a lot of effort into it but you're kind of up to the mercy of what those bugs are going to do in your barrel, and you can wait two years and have something brilliant or you can wait two years and send it down the drain," he said.
"What I would hope for out of it [the new CCA ownership] is to possibly expand the barrel room. We need a few toys over in our production so our consistency and quality is going to actually increase.
"And maybe some really unique barrels coming in because they do own a few distilleries around the world, so I'd like to see an expansion of our barrel room for sour beers as well as barrel aging for spirit-based barrels."
So what does the future hold for Will Irving? "I'd just like to keep making good beer."
"I just like being creative so I like the whole challenge of making new and interesting beers and pleasing people with something that I've made."
The winners of all 12 awards can be viewed in the Summer Issue of Beer & Brewer which is available at independent bottle shops, homebrew shops and newsagencies nationwide. To subscribe, click here.
The Best Brewer Award was sponsored by: Kegit
Kegit provides craft breweries with an automated logistics and tracking platform, to ensure they always know where the beer is and that it's being stored in the perfect conditions.
Kegit was created over a few pale ales and since then, the team has been busy building tracking devices and management software to help brewers, manage their business more efficiently.
Brewers can now see in real time that their kegs and brews are being looked after. The SmartTag provides a solution for a problem that craft brewers regularly struggle with, ensuring that venues and distributors are looking after their full kegs.
To read more about what Kegit can do for you, click here.