A local favourite is heading out into the world as Canberra's BentSpoke Brewing release their very first New England IPA in cans.
Launching today, the 7.2% Stratus hazy IPA, that showcases Citra, Mosaic, Ekuanot, and Cashmere hops, had been a treasured, tap-only release at their Braddon brewpub, often ranking among their top three most requested beers for take away in their draught "Travellers".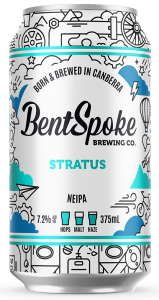 But now that it's emerged in 375ml cans, and as part of the brewery's Drifter series of limited releases, a national audience can get a taste. BentSpoke said Stratus brings "a plethora of fruit flavours and aromas including paw paw, passionfruit and mango, balanced with the yeasty characters and bready flavours from the addition of cereal grains".
Co-founder and head brewer Richard Watkins said: "It has a really great combination of hops and yeasty characters. The addition of cereal grains provides some bready flavours, it has a really nice all-around balance. Can't wait for everyone to try this smooth hazy NEIPA!"