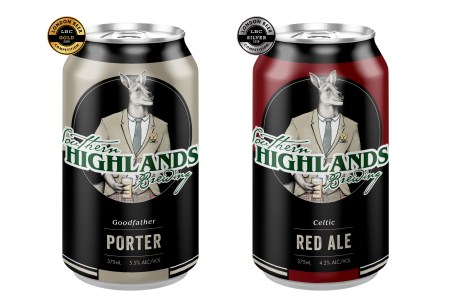 Winning gold and silver at the recent London Beer Competition has come at just the right time for The Southern Highlands Brewing Co as it says its new export drive will benefit from the global recognition.
At June's third edition of the London Beer Competition, the Moss Vale, NSW brewery's Goodfather Porter (ABV: 5.5%) won gold – the competition's ultimate seal of approval. It was one of only eight beers to achieve the distinction from hundreds of submissions from 25 different countries.
Their Celtic Red Ale (4.2%) also won silver, while the brewery itself won 'Best in Show' for Australian breweries entered. This year's awards follow a 2019 bronze medal for their Australian Blonde Ale – the Naked Harvest (4.2%).
One of the key tenets of the competition is to award and celebrate beers that beer buyers want to buy.
The brewery's co-owner Ben Twomey told Beer & Brewer the awards help to validate the beer and the brand as it embarks into overseas markets.
"The timing couldn't have been better as it follows us commencing the export part of the business," Twomey said.
"We have recently commenced commercial supply of our Firkin Helles Lager and Original Pale Ale into Hong Kong and are working on other regions.
"Quality, brand and value are the basis of consumer decisions and we always started this as a commercial enterprise – so this recognition is great across a whole host of fronts."
Co-owner and head brewer Cameron James said this of the winning Porter: "The beer really sits in the middle ground between an English and American style Porter – which must have resonated with the London judges. This beer scores well in Australian competitions as well. I feel there is the perfect amount of roast to impart our intended flavours."
And on the Red Ale: "It's a great quaffable Red Ale with the malt dimension and balanced mouthfeel. It's one that is designed for a Spring or Autumn day in the Southern Highlands which would suit European drinkers."
Contact Beer & Brewer by clicking here to share your news and views.