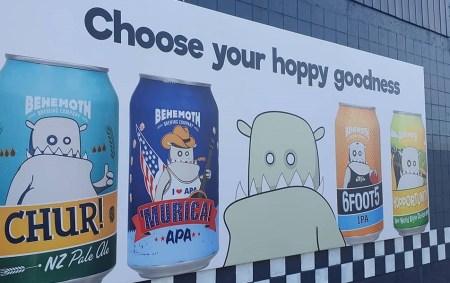 Auckland brewery Behemoth Brewing Company is hoping to brew its first batch of beer in-house after the COVID-19 crisis has passed.
For the last three years, founder Andrew Childs and his wife have been looking for a location for a brewery. Over 32 locations were considered, before this current site – on the corner of Dominion and Charles Street in Auckland – was chosen a year and a half ago.
"After a few months negotiating, we've got a 10, plus five, plus 5 year lease, so that's 20 years hopefully," Childs tells Beer & Brewer. "They're really cool landlords, they've been really helpful."
Most of the electricity and plumbing has been completed, but under the current lock-down rules, further progress has been postponed. Up until now, all Behemoth beers have contract brewed, primarily with Steam.
"The brewery will land here towards the end of May and if we can get the brewery side of it up and running in June, and potentially the beginnings of the bar by June, that would be great," adds Childs.
"We wanted to have it up and running before Christmas last year, but it's interesting times right now. We're hoping our timing is somewhat fortuitous and that New Zealand has got ahead of things thing better than most at the moment."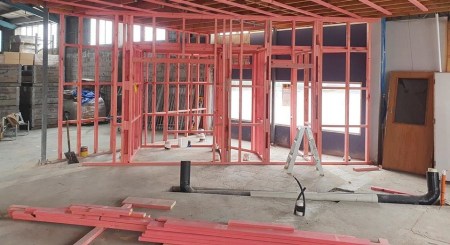 The new brewery will feature a 2,500L three-vessel brewhouse, eight 5,000L fermenters and three 300L fermenters, all from Alpha Brewing in Nebraska, which is supplied in Australia and New Zealand by FB*PROPAK. They have also got an Alpha canning line on the way as well.
The equipment will be the first from Alpha Brewing to be used in New Zealand, with Black Hops Brewing using similar kit in Australia.
"[With} the three 300L fermenters we can divert wort and make some new fun beers of new yeast strains and different dry hops," Childs says. "It will mainly be for the pub only and experimental stuff, but it's also going to be useful for our yeast propogation as well.
"Those will be the first things that we'll bring in-house. A lot of our core beers and stuff, we'll keep contract brewing.
"We're going to be something of a showcase brewery in New Zealand for the kit."
Once completed, the brewery will give Behemoth a brewing capacity of 350,000-400,000L per annum. Given the fact in the last financial year, the brewery brewed 530,000L and is on schedule to brew 600,000L this year, Behemoth will still be relying on contract brewing for the immediate future, although further expansions are possible.
"We've got a bit of room outside to put 10,000L fermenters in, and we are looking at taking over the building next door so we can expand that way as well," says Childs.
"Because we're so central, we're definitely going to have size limitations, so we don't know if we'll be able to do 100% of our brewing in-house or continue to do some off-site but we're taking a flexible approach to bring as much of it in-house as we can and while still supporting and having support from our contract partners."
Behemoth has been crowdfunding for this venue since mid-2019 and now has 635 "shareholders" in the business.
Although the hospitality side of the business is not yet operational and restrictions are still in place, the plan is to open a bar in the brewery in time.
Childs' wife is a butcher so the venue will feature an in-house butchery and a 'nose to tail' menu. A chef has already arrived in New Zealand from Portland, Oregon.
"We're going to bring in a whole carcass and the whole menu will change every day," says Childs. "We don't want the fanciness of fine dining, but really good pub food, along with 24 taps of beer always revolving.
"We've got a really good neighbourhood around us in Mount Eden. We want to have a really good neighbourhood vibe, but also show what Behemoth is all about."