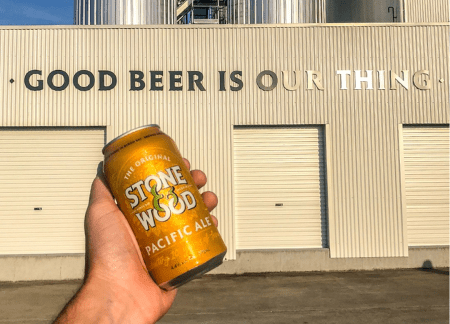 Stone & Wood is offering credit to venues holding unopened kegs of all Stone & Wood beers.
With venues having been forced to shutdown, draught beer sales are increasingly rare, so Stone & Wood – which has already closed its Byron Bay and Brisbane tasting rooms – is offering credit for full, unopened kegs for all its beers.
Breweries across Australia have been taking steps to help their customers, communities and each other during these unprecedented times.
"We pride ourselves on being a long-term partner of the pub and club trade – in the good and the bad times," says Stone & Wood leader Nick Boots. "While it's a significant cost for an independent, family-owned business like us, we know it's the right thing to do for the industry in this time of need.
"Our trade partners and drinkers expect fresh beer, so although we're unlikely to reuse any returned kegs, we hope by crediting returned kegs we'll be able to deliver fresh Stone & Wood beers using these credits when the current restrictions are lifted."
To access a full credit, kegs must be capped with the original cap for quality and safety purposes, be within the best before date and must be received by Stone & Wood by 30 April.
Stone & Wood's sister distribution company Square Keg is also offering the same credit to its customers.
With a large number of requests expected to be processed over the coming weeks, Stone & Wood and Square Keg have both asked for patience from customers.
A similar offer of keg buy-backs has also been extended by Lion, who received over 10,000 requests for keg buy-backs.