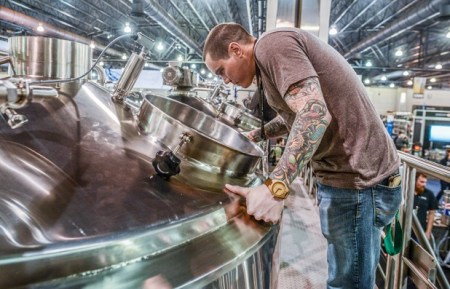 Many breweries are starting to make hand sanitiser as they find another way to support communities during the COVID-19 crisis.
The need for hand sanitiser has probably never been greater globally and breweries across Australia have stepped up to the plate to help out. Some have their own distillery equipment on-site and so are making their own, while others are teaming with local distilleries and sending them fermented sugar wash which can be converted into the life-saving product.
Queensland
In Queensland, Land & Sea Brewery has joined forced with Fortune Noosa Head Distillery to produce sanitising liquid to World Health Organisation standards.
"There's currently an unprecedented demand for sanitising liquid globally so we thought it's only right we use our facilities and resources to start producing this extremely limited and valuable resource," Sian Murray, of Land & Sea, tells Beer & Brewer. "To date, we've had to overcome some big hurdles.
"Global shortages on key ingredients and containers have made the process very difficult but we're now very glad to say that we've been able to provide sanitiser by the litre to those industries and individuals who need it most (hospitals, government officials, etc.) and pending on a delivery of supplies, we'll hopefully be able to open it up to the community for purchase in the coming weeks."
Western Australia
In Western Australia, Spinifex Brewing Co and Limestone Coast Brewery have both turned their breweries into hand sanitiser production facilities.
They are currently producing up to 1,000 litres of ethanol every day and converting it into hand sanitiser. The founders are calling on the government to prioritise testing so that the sanitiser can be made available as soon as possible.
Additionally, Black Brewing Co has teamed up with Dune Distilling to release their own line of 70% Dune Distilling Hand Sanitiser. While locals can buy it from the brewery's cellar door in Perth, the main purpose behind the product is to donate it to disadvantaged Western Australian community group, and indigenous communities, at a greater health risk.
New South Wales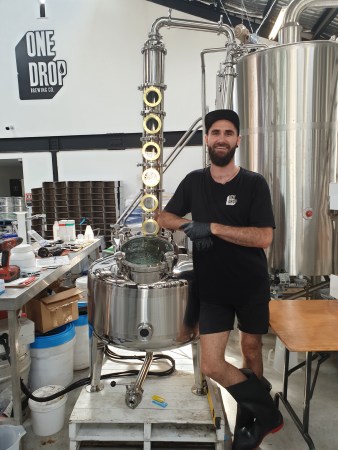 New South Welsh breweries are also getting in on the act.
In Botany Bay, One Drop Brewing finished canning its tanked beers, did a full, deep clean of the brewery and started making sugar wash for a local distillery called Banks and Solander. Sugar wash is where instead of fermenting malt, the brewer fermented sugar and water
"As a brewer, we use our expertise and equipment to create a really solid environment," head brewer Nick Calder-Scholes tells Beer & Brewer. "We create a 14% seltzer basically and then we distil that again and again to get the pure ethanol.
"Then we dilute that down to WHO standards for hand sanitiser. We'll be creating wash and sending that to a local distillery. We've also got distilling equipment here so we'll be creating our own Hand Booze! We'll be adding hop oil to ours to make it beery!
"We've never done this before, but the commitment is to coming together. A cross-over of artisan producers.
"I'm learning a brand new skill. It's an exciting time in a crazy time."
Young Henrys has its own 2,000L still where it makes gin, so it has been converting its keg beers – which are no longer viable for sale given the closures of pubs – into alcohol.
"We're following the guidelines for hand sanitiser and sending most of it to Too Good which is a charity that we've worked with," co-founder Richard Adamson tells Beer & Brewer. "We'll probably also do a sugar wash.
"We looked at our still and someone said, 'what are you going to do with that?' And so we started talking about it. Everyone has been getting in touch. There's a genuine need and we should do our part.
"I'd say that by the end of the week, we'll probably having 1,000s of litres which will be good."
Victoria
Carlton & United Breweries (CUB) has pledged to donate at least 20,000 litres of hand sanitiser to frontline medical staff.
At least 40,000 500ml bottles are being produced for healthcare workers in partnership with hygiene company Ecolab.
South Australia
The team behind Vale Brewing and Fox Hat Brewing have been helping their parent company Bickfords Group at their South Australian manufacturing facility as they bid to get hand sanitisers out to market.
Last week, Bickfords Group ran 60,000 bottles, with schedules in place to produce a further 120,000 500ml bottles next week.
"Ethanol is the key ingredient of hand sanitiser, and we already produce ethanol for our alcohol products," Bickford's Group managing director Angelo Kotses tells Beer & Brewer.
"The production of the hand sanitiser is being split between the Bickford's Group manufacturing site in South Australia and at the Bickford's Group owned rum-producing Beenleigh Distillery in Queensland."
Those already involved are encouraging others to contact their local distilleries – many of which are already producing hand sanitiser – and ask what they can do to help.
"Reach out to your distillery and see if you can make sugar wash," recommends Calder-Scholes. "The ferment can three to four days, but the distillation can take six hours."
To find out more about producing hand sanitiser, check out the WHO website.