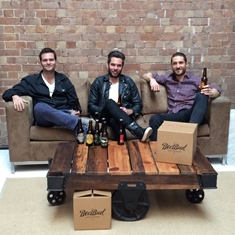 The co-founders of BeerBud (l-r): Alex Gale, Andy Williamson, Mark Woollcott
You can now savour the great taste of a craft beer and feel good about making a positive difference while you're doing it with the launch of Prickly Mo.
BeerBud.com.au and Victorian craft brewery Prickly Moses have joined together to launch the limited release craft beer, BeerBud's Prickly Mo, to help raise funds for Movember.
It's the perfect beer to lubricate that sweet mo of yours, with all profits from the sale of BeerBud's Prickly Mo donated to the Movember Foundation, one of the leading global organisations committed to changing the face of men's health.
BeerBud has launched a crowd funding campaignherewhere you can exclusively pre-purchase this limited release beer, or better yet, take the opportunity to join Prickly Moses' head brewer Luke Scott to help brew the Prickly Mo beer itself.
"We're on a mission to help Australians drink better beer and make a difference while doing it," said Andy Williamson, CEO of BeerBud.com.au.
"The Prickly Mo is a collaboration between local and independent Australian craft beer brewers, suppliers and retailers to raise funds for men's health. We're aiming for this to be an annual initiative so we encourage all Australians to get involved, support a great cause and drink awesome beer while they're at it."

The launch of BeerBud's Prickly Mo comes as latest figures show that more than one million Aussies are choosing hand crafted, boutique brews over the big brand beers each and every month.
"Beer is the number one beverage in Australia but our Aussie tastes are maturing, and we're increasingly experimenting with new styles and flavours. From easy drinking summer ales, to dark and heavily roasted stouts and flavour packed IPAs, there's now a beer to match any taste or occasion," Williamson added.
"There's never been a better time to be a beer drinker."
To date $5,305 has been pledged towards the Prickly Mo and Movember, with onlyeight days to go. To pledge, click here.