Welcome tothe Spring/September Newsletter from Beer & Brewer.
In this issue:
– STARTING A MICROBREWERY – SHORT COURSES – Brisbane and Auckland
–
Beer& Brewer Awards
(Sydney, October 25)- Presentation Dinner – Tickets on sale now, Trade show- Free registration.
– Beer & Brewer / Homebrewer magazine – Issue 18 Spring 2011 –
On sale now
.
– Ultimate Beer Guide Australia & New Zealand –
On sale now
.
– ADD YOUR BUSINESS TO OUR
DIRECTORY
FOR

FREE

!
– BREWING INDUSTRY MESSAGE – Re: Ginger Beer (see below).
———————————————————————————
Sponsored Links:
STARTING A MICROBREWERY – SHORT COURSES – Brisbane and Auckland

STARTING A MICROBREWERY – SHORT COURSE
**** Brisbane and Aucklandalmost full, last sessions for 2011****
Wishing to start your own microbrewery, develop a brewpub, brew restaurant or simply starting a beer brand? Let Beverage & Brewing Consulting take you through some of the key aspects of starting a microbrewery or beer brand and essentially building a business in this exciting and dynamic growth industry.
Currently the craft and premium beer markets are experiencing high digit growth worldwide and have consistently for the last decade. What this would suggest is that the Asia Pacific markets are well positioned to reap the benefits of this craft revolution as it filters down to Asia, Australia and New Zealand over the next decade.
Knowing where and how to start in developing a microbrewery and/or beer brand from the ground up can be a daunting & overwhelming exercise however this comprehensive information session will give you the basic framework that has been used for microbrewery setups across Australasia.
Host Profile:
Costa Nikias Director at Beverage & Brewing Consulting started in the beer industry working as a cellar hand in a London brewery at the tender age of 18 and followed with formal studies in winemaking initially then brewing at the highly regarded University Of Ballarat. Soon after Costa was employed to source equipment solutions and establish microbreweries across the country. Costa has been involved and has worked with iconic breweries such as Old Coast Rd Brewery in WA, Moobrew in Tasmania, Bluetongue Brewery in Newcastle, Mt Tamborine Brewery in QLD, Fish River Valley Brewing in NSW and Stark Brewery in Indonesia + Shanghai Tang Brewery China to name but a few and is a member of the Institute Of Brewing & Distilling Asia Pacific region.
Costa is currently employed as a beverage and brewing consultant throughout Australasia to develop concepts into tangible reality using hard work, persistence, passion and plenty of gusto..
Please join Costa who will be conducting the information sessions at the following times nationally – Venues TBA
BrisbaneOctober 22nd (9am – 1pm)
Auckland November 2nd (6pm – 10pm)
SingaporeTo Be Confirmed

Duration: 4 hours
Content:
Why to start a microbrewery
Craft beer market statistics and industry outlook
Steps in the development of a microbrewery, pub brewery or beer brand
Framework for creating a viable business model
Marketing strategies and creating a market for your product
Excise and health regulatory information
Environmental considerations when starting a brewery
Equipment type and general brewing principles
Packaging options and preferences
Ins & Outs of Brewery finance
10 pitfalls to be aware of when starting a microbrewery
Case Study discussion
Questions & Answers
Light refreshments will be served with a range of local beers for sampling
Cost:
$400.00 + GST
Includes handouts with informative guidelines and suggestions. 100% SatisfactionGuaranteed.
Please email costa@brewingconsultant.com.auor call 0422 517 210 to find out more and reserve your place.
———————————————————————————
Craft beer sales rep position open (Australia). Choose your own hours to work!
Northdown, Craft Beer Movement is searching for a beer enthusiast to represent theirportfolio and assist in sales.
Theirportfolio consists of remarkable craft-beer from across the world, including:
– Moylans Brewery, USA
– Baird Beer, Japan
– Croucher brewery, NZ
– Harviestoun, Scotland
– Beer Here, Denmark
– Amager Bryghus, Denmark
– Norrebro Bryghus, Denmark
Your role is predominately generating sales and maintaining relationships with both venues and cellars (on and off-premise clients) while having fun and enjoying amazing craft beer!
A passion for craft beer and great interpersonal skills is a must.
Previous sales experience not required.
Work part-time, full-time or whatever suits you! Sales rep role is commission based.
Applicants from all states in Australia encouraged to apply.
Please email any interest to info@northdown.com.au
Further information on Northdown, Craft Beer Movement can be found at theirwebsite www.northdown.com.au
Cheers!

———————————————————————————
———————————————————————————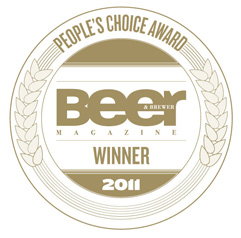 Beer& Brewer Awards
Presentation Dinner – Tickets on sale now
Trade show- Free registration
Ensure your favourite beer, bar, bottleshop, event, ad, homebrew kit or shop and much more are recognised for their excellence.
Last year saw the inaugural Best Beer Venue Awards and over 700 nominations for venues all over Australia and New Zealand. The People's Choice Award and Overall Best Beer Venue Award went to The Local Taphouse, St Kilda, Victoria, and the Overall Winner for New Zealand went to, The Malthouse, Wellington, NZ. Nominations are now open for 2011, with a new name, the Beer & Brewer Awards, and many more categories to recognise even more, venues, web sites and beertenders in our pursuit of celebrating all things beer in Australia and New Zealand.
There are 24 categories in which to nominate your favourite venues, beers, sites, beertenders, events and more. From these categories we will be able to work out the Overall Winner for the People's Choice Award and the People's Choice Awards for Best Beer (Local), Best Beer (Imported) and Best Beer Venue. A judging panel from the industry and magazine will decide on a short-list of finalists in each category. The winners will then be published in an upcoming annual awards issue at the end of 2011. Category winners will not necessarily be those that receive the most votes/nominations, however the Peoples' Choice Awards are based solely on the business or beer that receives the most votes.
The awards will be formally announced at a presentation dinner at The Sebel Hotel, Surry Hills, NSW, on 25 October 2011 from 7 pm. All are welcome. A Trade Show will be held during the day, from 12 to 4 pm, showcasing brewing equipment, packaging, ingredients, beers and ciders for breweries and distributors looking to network with the retail trade. Entry to the Trade Show is free.
Note: Discounted accommodation is available at The Sebel, $139 Superior room and $159 Deluxe room. Simply mention Beer & Brewer Awards to gain the discount.

TO BOOK ($99 SINGLE, $890 TABLE 10) FOR THE PRESENTATION DINNER CLICK ON THE FOLLOWING LINK:
25-Oct-2011
Beer and Brewer Awards Presentation Dinner
TO REGISTER FOR FREE FOR THE TRADE SHOW CLICK ON THE FOLLOWING LINK:
25-Oct-2011
Beer and Brewer Awards Trade Show – Free registration
———————————————————————————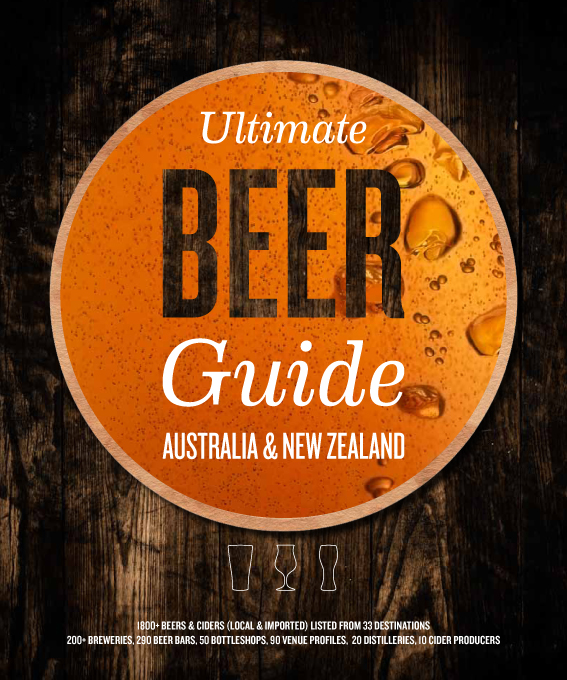 ULTIMATE BEER GUIDEbook Australia & New Zealand. RRP AUD$24.99, NZD$34.99. Essential on any beer road trip/weekend getaway.Perfect Gif Idea.

– 1800+ BEERS & CIDERS (LOCAL & IMPORTED).
– COLLECTION OF WEEKEND AWAY TRAVEL ARTICLES TO 33 DESTINATIONS.
– 200+ BREWERIES, 290 BEER BARS, 50 BOTTLESHOPS, 90 VENUE PROFILES,
– 20 DISTILLERIES, 10 CIDER PRODUCERS.
Click heretobuy a copy for yourself and as a gift!
A subscription is a great gift idea that brings beer pleasure all year round! From just AUD$32.99 for a 12 month (5 issues) subscription, it's great value.

BUY CURRENT ISSUE OR BACK ISSUE

See our stockists page to find your closest store selling the current issue.Alternatively see our back issues page to purchase past issues, to ensure you have the complete set, or each of your favourite past issues.
ADD YOUR BUSINESS TO OUR DIRECTORY FOR FREE!

See theDirectorypage for how to upgrade your listing to include more info and photos. The Directory is for breweries, retailers, home brew shopsand suppliers.
———————————————————————————
BREWING INDUSTRY MESSAGE – Re: Ginger Beer
Beer& Brewer is running a feature on Ginger Beer in the summer issue. Please email editor@beerandbrewer.com if you brew an alcoholic ginger beer, to arrange samples to be sent for tasting notes. Deadline September 20.