13th May 2011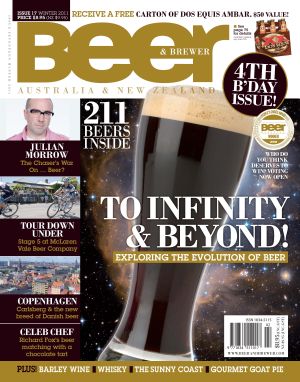 The Winter issue of Beer & Brewer/Homebrewer Magazine is due to hit newsstands on May 18, 2011. The latest issue celebrates our 4th Birthday and is jam packed as usual with features, celebrities and all the latest in beer and brewing across Australia and New Zealand.
In this issue we travel back to the dawn of time to discover the origins of beer, its evolution and how this most extraordinary of beverages is now launching itself into space! We talk with 4 Pines Brewery in Manly, NSW, about the development of their 4 Pines Stout into a beer suitable for consumption on zero gravity flights and their plans for Space Tourism.
We also settle in at McLaren Vale Brewing Company's Salopian Inn for Stage 5 of the Tour Down Under to talk Vale Ale with Adam Trippe-Smith and Head Brewer Jeff Wright as Lance Armstrong and Co. ride by. The voice of cycling Phil Liggett also shares his views on the event and what it means for South Australia. And if that wasn't enough we sit down with The Chaser's Julian Morrow to talk about his favourite beers.
Also in this issue:
Beer Focus: Barley Wine
A look back at the role Sydney's ESB Homebrewing Supplies played in launching some of our most respected brewers
Brew Pub legend Bill Bell
A look at the collaboration brew between Mountain Goat and Thornbridge Brewery
The Culture Dodge in Copenhagen
Weekend Away on the Sunshine Coast
Chris Badenoch shares his Winter Recipes
The Beer Chef Richard Fox referees the Ale Ashes armed with a Chocolate Tart
Whisky: Campbeltown Whiskies are some of the most famous in the world
Kegging 101: Your guide to kegging your brew
How to give your beer and extra kick using choclate and coffee
Barley Wine, Extra Strong Vintage Ale, European and Australian Lager recipes
Issue 17 will receive a formal kick off and Birthday Party amongst subscribers, suppliers, stockists and advertisers at Young & Jackson's, Melbourne, Victoria on Wednesday May 18th. Beer and food will be supplied. For more details visit www.beerandbrewer.com.