Veteran support group Young Veterans has commissioned a beer that they hope will feature heavily at pubs and RSL clubs across Australia on ANZAC Day this year.
Ten percent of all sales of the Young Veterans Two Up Pale Ale, brewed by Albatross Brewing in Mordialloc, are donated directly to the not-for-profit organisation Young Veterans.
And in a nod to the ANZAC spirit, the Two Up Pale Ale has been brewed exclusively with Australian and New Zealand malts and hops, resulting in a beer described as "refreshing, hoppy, exquisitely balanced – and very, very Australian."
Not only are a significant portion of the profits donated, but the beer itself was designed in consultation with the group and a gathering of veterans young and old at Dandenong RSL last year.
Steve Laughlin, head brewer at Albatross, has been friends with the founders of Young Veterans for years, and was eager to help the organisation which supports younger returned servicemen and women suffering from Post-Traumatic Stress Disorder (PTSD).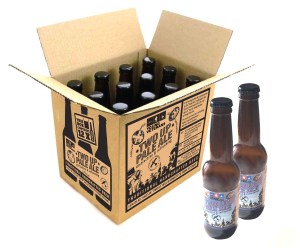 He explains that the creation of the beer started with a tasting session.
"We had a tasting with young veterans all the way through to older veterans from different wars. We basically tasted a whole bunch of different beers so we could get an idea of what sort of taste, colour, aromas and malts that they wanted in a beer."
Following that, Laughlin went back to the brewery and designed a recipe based on the results of this session; after a few small test batches and some trial-and-error, he got the recipe right and brewed the first 3000-litre batch.
Laughlin describes the Young Veterans Two Up Pale Ale as quite malt-driven for a pale ale, but with beautiful hops aromas: "it's really nice, really balanced – it goes down easily basically!"
Brewed with a mixture of Australian Super Pride, Australian Enigma, Southern Cross and New Zealand Pacifica hops, the 5.3% ABV beer is currently available in bottle and keg, but with cans also in the works – once the Albatross brewery installs a canning line.
While Laughlin himself is not a veteran, the cause is nonetheless close to his heart, having been employed for 12 years as a police officer and with friend and familial ties to the army.
"One thing which really drove home for me was an investigation in The Australian last year, which stated that '41 military personnel and veterans have taken their own lives this year, the same as the number of Australians who were killed in Afghanistan during 13 years of war,'" he explained to Beer & Brewer.
"It just shows that heaps of people are coming back from service unable to deal with PTSD properly, and as a policeman I see a lot of things but they see things I would just never see.
"So for us to be able to pour money into that, to help with assimilation back into society and activities to bring them together to help each other out – I think that's really important."
A full list of venues stocking the Two Up Pale Ale will be available on the Albatross website by mid-April, but Laughlin says RSL clubs in particular have been very receptive to the beer and cause.
Confirmed venues in Sydney include the Keg and Brew in Surry Hills and the DOG in Randwick – both of which will have the beer on tap – as well as bottles at the Ramblin Rascal Tavern and Kittyhawk in the CBD.