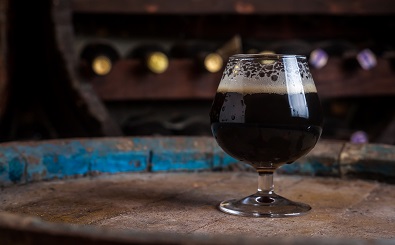 Beer vs Beast is back for Good Beer Week 2017 and this year Brewmanity has raised the bar and set themselves one hell of a challenge.
Teaming up with Colonial Brewing Co they will endeavour to brew what they believe will be the only Eisbock at Good Beer Week.
For those unfamiliar with an Eisbock, it is produced through a brewing process where beer is partially frozen after fermentation. The frozen water is then extracted to produce sweet biscuit flavours and a more highly concentrated brew.
David Neitz, Director of Brewmanity told Beer & Brewer that the whole Colonial brewery will be closed down for a weekend to produce the Eisbock.
"I don't think anyone from Colonial has done an Eisbock before but Mick Jontef our Brewer has done one, so it's a really good, fun challenge for everyone."
Neitz also revealed that the team would be splitting the brew and transferring half into whisky barrels for a special whisky aged Eisbock for GABS.
"We thought with the style of beer being a heavier, higher alcohol beer if we put it into a whisky barrel for a while and have some of those flavours coming through to give it a really interesting flavour for GABS," said Neitz.
"We wanted to test ourselves out and give it a try."
At Good Beer Week last year Brewmanity teamed up with Balter Brewing to produce The Beast Tamer. That particular event ended up being the biggest single day event in Good Beer Week history and helped them to raise $50,000 for the Cure for MND Foundation.
Brewmanity Brewer, Jontef, said: "We looked at the Ice Bucket Challenge, and the Big Freeze events that have raised so much money and awareness for MND, and we thought it made perfect sense to take on the brewers 'Big Freeze' challenge and make an Eisbock. We've named it Dr. Freezemeister in honour of Dr Ian Davis, the founder of the Foundation."
The Beer vs Beast event will take place at Colonial Brewing Co in Port Melbourne this year and the teams are hoping to reach similar heights with their fundraising this year. The event will not only include great beer and food trucks but also an exciting musical line up including headlining act Diesel.
"Our mantra is 'Good beer, good deeds, good times', and that's what we want this to be about. We're really challenging ourselves on the beer side which is exciting and hopefully we can get that fundraising tally up."
One hundred per cent of proceeds spend over the bar on the day will go directly to the Cure for MND Foundation.
Beer & Brewer is giving one lucky reader a free trip to Melbourne for the second weekend of Good Beer Week, from 18-21 May. For information on how to enter click here.