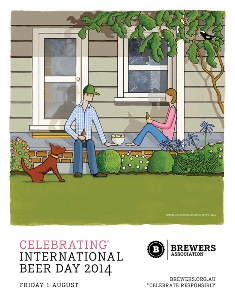 Pubs, bars and backyards will host International Beer Day festivities across Australia next Friday, 1 August.
Founded in 2007, International Beer Day is a global event celebrated in more than 50 countries.
TheBrewers Association has commissioned an Australian image marking the day entitled 'Friday afternoon' painted by artist Rachel Flynn of Mudgee in New South Wales.
"Rachel's image is so familiar of a moment shared at the end of the day in a city backyard or the bush," said Brewers Association CEO Denita Wawn.
"Beer is consumed responsibly by millions of Australians and adds much to the social fabric of this country. And our industry is a proud supporter of Drinkwise, which targets alcohol misuse particularly amongst young people," said Wawn.
If you have any events planned for International Beer Day let us know here.