We love beer, and we love writing about beer. But with our offices based in Sydney, most of our actual beer excursions are limited to a radius well within the confines of the Harbour City. So when the chance to fly down to Melbourne for Australia's largest week-long celebration of beer arose, we jumped at it. The following is a somewhat foggy recollection of two days spent touring some brewing hot spots south of the border, meeting some of Australia's top brewers, and enjoying some of the country's best craft beer.
Touching down at Tullamarine, beer o'clock was quickly approaching. Deb (Editor), Jacob (National Sales Manager) and myself (humble Assistant Editor) jumped in a cab and told our driver to hurry – we needed a frothy, ASAP. First stop: the opening night party at the Good Beer Week Festival Hub at Beer DeLuxe, Fed Square.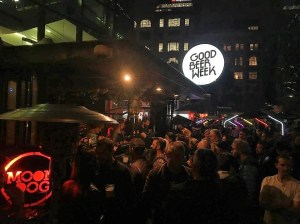 Arriving just in time, we joined the queue at the bar. The tap line-up was suitably impressive for such a night, and both bars were heaving with craft beer lovers sampling some of Australia's best beers. After a couple of pints, we met up with the man behind Ale of a Time (and one of B&B's contributors) Luke Robertson, before wandering over to a large group of people wearing AIBA beer-judging shirts, who were understandably jolly after working their way through nearly 2000 beers over two days. It was great to put a face to a few names that we're often in touch with via email or phone, and just meet and enjoy some great beers with some of the guys from breweries interstate.
After a great night, we all woke up a bit sore. However, thanks to some deft planning, we had already organised the perfect remedy in advance: Beerspresso at Tallboy & Moose in Preston. While they've only been open around six months, the brewery has carved out a solid following, and the expansive industrial space was already pumping as the clock struck midday.
For Beerspresso, Tallboy & Moose as well as seven other local brewers teamed up with eight local coffee roasters to create some pretty unique beers brewed with coffee. We sampled each of the eight beers; Tallboy & Moose, Bad Shepherd, Westside Aleworks, Henry St. Brewhouse, 3 Ravens, The Public Brewery, Exit Brewing and 7 Cent all brought their A-game, turning out some wild combinations – barrel aged quadrupels, milk stouts and saisons to name a few, all brewed with single origin coffee or blends.
We were on a tight schedule, and after meeting the two owners Dan Hall (Tallboy) and Steve Germain (Moose – he's Canadian), we zoomed back to the Cryer Malt Trade Hub also at Fed Square for New Brew, presented by Old Wives Ales. Here we met with the owners of some of Australia's youngest craft breweries, and sampled their handiwork. It wasn't really a surprise, and maybe more of a confirmation to see that even some of the newest and smallest Aussie breweries are putting out some high quality beer – Two Cities Brewing, The Foreigner and Blizzard Brewing (the latter being the country's highest altitude brewery at Dinner Plain) had some particularly tasty brews.
From there, it was off to Port Melbourne for what was the biggest single day event at GBW last year, which had also raised over $50,000 for the Cure For MND Foundation in the process: Beer Versus Beast, at Colonial Brewing's Victorian outpost. For 2017, Brewmanity and Colonial teamed up to undertake the 'Eisbock Challenge' and tackle one of brewing's most challenging beers, the Eisbock. And they nailed it – the Dr Freezemeister Eisbock was epic! We also caught up with Melbourne AFL legend David Neitz, now doing great things with Brewmanity, as well as experienced hand and Brewmanity's brewer Mick Jontef.
Later, after Diesel had filled the brewery with his killer tunes, Head Brewer of Colonial Ash Hazell gave us a tour around the brewery itself, and showed off his brand new canning line. It's a massive space, and keep an eye on these guys – they've certainly got the room (not to mention the quality) to go big-time.
Next, it was off to the circus – the Hawkers Brewery Circus to be exact. For this unique event, Hawkers CEO Mazen Hajjar brought together performers from Cirque Du Soleil and Circus Oz to perform in their Reservoir brewery. It was a surreal experience, standing among the tanks watching jugglers and trapeze artists do their thing, while local indie band Halcyon Drive pumped out the tunes.
Sunday morning came around pretty fast, and after a mammoth 24 hours it could've been tempting to stay in bed all day – but we had Cask Off at the 3 Ravens Brewery in Thornbury on the agenda, and we were keen to try some experimental real ales in spite of our headaches. Walking inside the brewery, we could already see a number of now-familiar faces, and spent a marvelous few hours enjoying the ales, which were self-serve directly from the cask to the glass and had been freshly tapped by the brewers on the day. Fury & Sons, Stomping Ground, Holgate, Old Wives Ales, Colonial and 3 Ravens all blew us away with some truly amazing, one-off ales.  Also, shout out to the catering at Cask Off for probably the best cheese toastie of my whole life.
Our final stop before flying out was the Foresters in Collingwood, who were hosting a New Zealand Pint of Origin tap takeover for the whole of Good Beer Week. We got an insight into the creative brewing mind of 8 Wired's Søren Eriksen, whose hop-forward beers from the North Island of NZ were seriously impressive. If you ever get the chance to try the 8 Wired Gypsy Funk Sour from their barrel aged program, do it – it'll blow your socks off.
It's a shame we couldn't stay longer, but we had a plane to catch – and the next day, a very serious case of Mondayitis to suffer. Thanks for having us Melbourne, Good Beer Week is really something special!