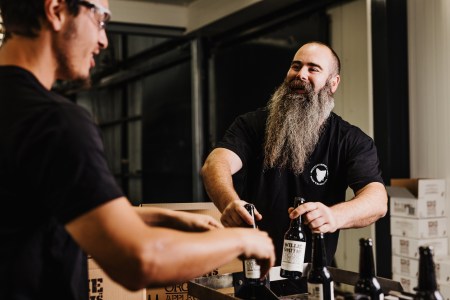 Following on his success in the inaugural Best Cider Maker Award, Willie Smith's Jimi Anderson has once again taken the top spot in our judging panel's eyes.
The big-bearded Tasmanian has been working hard with cans and new apples over the past 12 months and is delighted to have reclaimed his title.
"It feels fantastic!" says Anderson. "I'm quite surprised and humbled. With the industry doing as well as it at the moment there's a lot of big players in there that I'm sure have got their hat in for the win. I'm happy to have taken it out.
"The craft cider market is driving quite strong. We want to continue driving that along, but also to offer a good array of beverages and to challenge new beverages in a new format like the can."
Since his win last year, Anderson has been focusing on improving his cider making skills. Collaborations with brewers and other cider makers have coincided with a growing usage of cider apples, which has had interesting effects on the finished products.
"What we've managed to learn as a team and myself personally is the added flexibility of making more SKUs and more interesting offerings using cider apples," says Anderson. "We'll be seeing a few new products and incorporating the cider apples into our more traditional and core SKU offerings.
"It's really exciting from the perspective of what it can actually add to the beverage. Our beverages are becoming more complex; we're starting to see more natural tannin coming through. It's just a beautiful thing to be able to work with. We're using different recipes and changing whereabouts we're using that product – whether it's our fermentation program or our final blending. We're really starting to develop those products to create a better, more complex beverage."
"The seasons ebb and flow in the cider apple production world. We're always needing to adapt and incorporate different apples into different styles. I think that's one of the things that I personally have enjoyed and learned most about in the last year. How to bring that to the knowledge of the drinker and continue to challenge and educate our public."
Just before we spoke to Anderson, Willie Smith's installed its own canning line, stepping away from contract canning as it looks to put more of its ciders into aluminium. Given the growing love of canned beers in Australia and globally, Anderson sees this step as important to get the brand out there more, but also to provide a new way to package limited releases.
"It's fantastic for us from a longevity and branding side of things, and allows us to play around with some more creative products which will be hitting the shelves in the next 12 months," says Anderson. "They can be limited release but not necessarily in a 750ml format, so that gives us some great flexibility to create a broader and more diverse SKU range especially on the creative front."