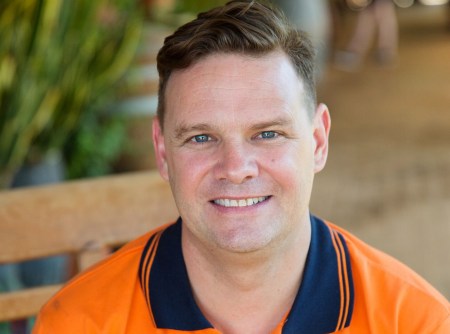 This year's Lifetime Achievement Award has gone, with strong backing from the judging panel, to Feral Brewing Company's Brendan Varis.
It was back in 2002, after nearly a decade of failing to find beers they wanted to drink, that Varis and his friend opened the brewpub that is now Feral Brewing with the aim of making beers they liked.
"Feral was started to brew beers that I like to drink and have personal respect for," explains Varis. "We made beers with little regard to commerciality or possible broad acceptance. If others liked it, we made more; if they didn't, we still made it just kept making smaller batches. The proof was that the pull can be stronger than the push when it comes to garnering broader support for what you do. We were young and dumb and had no money, so the next few years were spent working out how to do that, writing a business plans and convincing someone to put their hard-earned into something that at the time was an unproven concept in Australia."
Varis is quick to point to the people who have helped him along the way to becoming the brewer he is today. He describes Brian Watson, who recently founded Good George Brewing in Hamilton, New Zealand, as a "mentor", and cites the incredibly positive influence of Roger Bussell, a "font of advice and information not only to me but countless other start-up breweries in Western Australia".
"Craft beer is an incredibly altruistic endeavour; there are so many people that give so much for the good of the overall industry. There are brewers, owners, suppliers, hospitably people, writers and many others who contribute to everyone's success."
Varis' own contribution to Australian craft brewing extends beyond Feral as well. He helped Jeremy Good open Cowaramup Brewing and a few months later, the brewery's pilsner scooped the Champion Lager trophy at the AIBAs, the achievement of which Varis is proudest in his entire career.
"It was a great example of a real amazing in-depth discussion about what that beer should be, and how you get there, then executing the plan to deliver. Seek that beer out by the way."
When Varis built his own brewery, craft beer was an anomaly. Now, as he steps away from Feral Brewing (he has maintained a position there after it was acquired by Coca-Cola Amatil), Vardis finds the craft brewing scene in Western Australia and the rest of the country has changed beyond recognition.
"To start with there is a craft beer scene now," notes Varis. "When we first opened and went to sell keg of our beer to a local pub, they would look at us like we had three heads. Since then, there have been periods where demand has outstripped capacity and now we see a lot of capacity in Australia that is a little ahead of consumer demand.
"I'd like to see craft brewers start looking for what's next. We can't just be looking for different hoppy blends to engage consumers. More diversity over and above hop forward beers is needed or the relevance of craft in time will be questioned. We also all need to individually put more effort into educating consumers into what craft beer is. There are so many that haven't been reached and so many that can be re-acquainted."
Given the vastly altered landscape in which craft beer finds itself, what advice does our Lifetime Achievement Award winner have for someone looking to get into the industry and make it the cause of their own lifetime?
"Be very clear on your purpose," says Varis. "This industry is a hell of a lot of fun but not easy to make a dollar from. It's a cluttered marketplace now. Don't do it because you think it sounds fun. What will you bring to craft in your area that is not already there? And depending on your model some formal study if you haven't done any will go a long way."
The winners of the 2020 Beer & Brewer Awards can all be viewed in the Summer Issue of Beer & Brewer. To subscribe, click here.