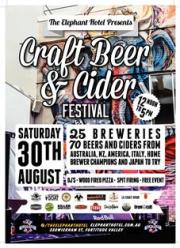 Fortitude Valley's Elephant Hotel will celebrate all things craft beer and cider this Saturday 30 September with its inaugural Good Beer & Cider Festival.
The festival is expected to draw a crowd of around 2,000 enthusiasts who will sample more than 80 local, interstate and international beers and ciders, with crafty tunes spun by DJs and spit roasts and wood-fired pizzas from the Elephant's kitchen.
Local brewers will be a feature of the event with Fortitude, Bacchus, Green Beacon, 4 Hearts, Red Bay and Beard and Brau showcasing their brews alongside Stone & Wood, Mountain Goat, Feral, 4 Pines, Cavalier, Coopers, Lord Nelson and ciders from Batlow and multi-award winning Hills Cider Co.
A People's Choice Award will be chosen for the most popular beer and cider on show with a lucky voter winning their height in craft beer- so vote early and often.
Matt Kirkegaard will be on hand for those new to the game, with a beer appreciation class early in the day, and brewers will be manning the stands to answer your questions.
One-off and rare brews will be available for the most fanatical of beer lovers making this an event for all.
Entry is free and tickets are $20 for five beers. For more information on the brewer line up and events on the day, click here.