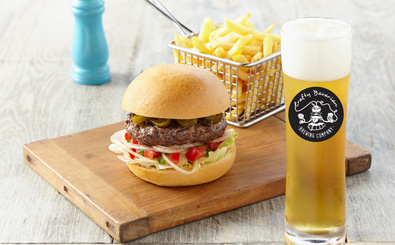 The Munich Brauhaus in Melbourne and 10 Bavarian Bier Cafés across the country have launched their own range of haus-brewed craft beers.
The 'Crafty Bavarian' range includes Munich Lager, Butcher's Bride Pale Ale, Hop Dock Wheat Beer and Blonde Moment a low carb blonde beer.
The beers are all brewed in Australia under the Crafty Bavarian Brewing Co. label and are available on-tap now.
The venues have also created a range of Bavarian-inspired burgers and hot dogs to complement the new craft brews.
The new Crafty Bavarian range includes:
BLONDE MOMENT
Style: Low carb blonde malt
4.7% ABV, 16 IBU
Description: Clean and mild, balanced with Saaz, Enigma and Galaxy hops
HOP DOCK WHEAT BEER
Style: 50/50 Wheat and barley malt blend
5.0% ABV, 10 IBU
Description: Hazy appearance, mild and satisfying
MUNICH LAGER
Style: Kellerbier
4.7% ABV, 16 IBU
Description: Unfiltered, unpasteurised. Sweet, malty grains and crisp firm finish
BUTCHER'S BRIDE PALE ALE
Style: Pale ale
5.1% ABV, 37 IBUs
Description: Citrus notes, hints of fruity esters and clean malt character