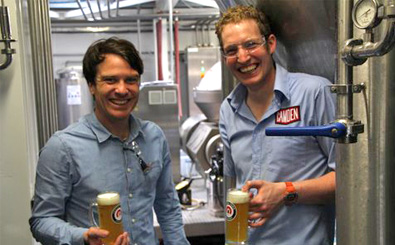 Written by Andy Young, editor TheShout
While AB InBev continues working on its takeover of SABMiller, the brewing giant has acquired three more craft breweries.
Late last month AB InBev bought three craft breweries, picking up the UK's Camden Town Brewery as well as the Breckenridge Brewery and Four Peaks Brewing Company in the US.
Reports suggest that AB InBev paid around £85 million (AU$174m) for Camden Town, although the financial terms of the deal have not officially been disclosed. While the move brought much dismay from many involved in the UK's craft brewing scene, Camden Town's founder Jasper Cuppaidge said he was "proud" of the deal.
In a statement Cuppaidge said: "The 'craft' brewing movement has seen incredible growth driven by innovation, quality and daring. Camden Town Brewery has been at the forefront of this revolution. The success and reputation we have built has been nothing short of incredible. That has been thanks to all of you and the great beers we've brewed.
"To stay at the forefront of this movement and secure our future success, we have to build a bigger brewery, employ more people and gain access to an international distribution network.
"We can't do this on our own. That's why I'm proud to say I've signed a deal with AB InBev."
AB InBev also bought Breckenridge, which was ranked 50th on the Brewers Association's 50 largest US craft brewers list of 2014, with sales expected to hit 70,000 barrels in 2015.
In a statement on the brewery's website, Breckenridge president, Todd Usry said: "We've been in this creative and dynamic industry for over 25 years, loving everything about it. That won't change. The passion for quality and culture that got us where we are today isn't going anywhere. We're proud of the fact that you can find our beers in 35 states; we've worked hard to get our beers to as many of you as possible throughout the years.
"The High End, Anheuser-Busch's craft and import division, shares the same excitement for our category and commitment to quality. We will join a group of established and innovative craft brewers as part of The High End, and we look forward to what opportunities these relationships will bring to us.
"What this new partnership does offer us is access to resources that will help us continue to innovate and bring our beer to more people."
The third acquisition by AB InBev was for the Arizona-based Four Peaks Brewing Company, which was launched in 1996 and was also on track to sell 70,000 barrels of beer in 2015.
Four Peak's co-founders said the deal means that the brewery can expand its footprint, building on its current success.
Co-founder Randy Schultz said: "We look forward to more opportunities to share what Four Peaks is about within our local community and beyond."
All three deals are expected to be confirmed in the first quarter of 2016 and none of the financial details have yet been disclosed.