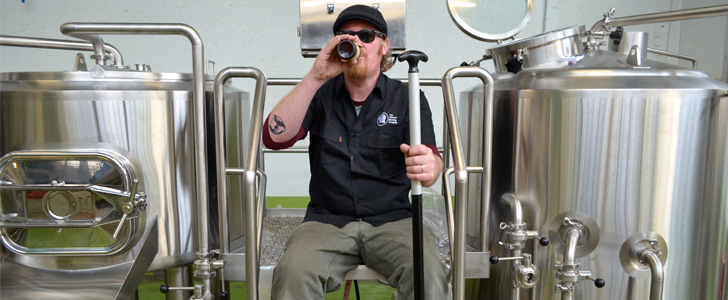 The Winston Brewing Company in North Hobart has launched this week, with four beers including a pepper berry saision, coffee nitro stout, American-style pale ale and a nine per cent ABV rye IPA aged in ex-Heaven Hill bourbon/Lark whisky barrels.
The brainchild of brewer Kris Miles and Caroline Kiehne who run the local craft beer pub The Winston, the brewery has been a year in the making.
"We have a small warehouse space a couple of blocks from the bar with a 300 litre brew house. At the moment we sell only at the Winston with the hopes of having a tasting room in the future at the brewery," Kiehne told Beer & Brewer.
While everything is up and running now, the past year has had its challenges for the team.
"Our supplier went bust and we (along with about a dozen other small breweries) lost equipment and deposits," explained Kiehne.
"On the upside, with the great community around craft brewing we all came together and did a collaboration brew hosted by Temple Brewing called Exile IPA and the proceeds from the kegs were distributed amongst the breweries, which lost money and equipment.
"Everyone has been incredibly supportive and patient during the ups and downs of this process and we are amazed by the optimism, willingness to help one another and dedication of brewers even in the face of such disappointments."
With the launch finally behind them, the Winston Brewing Company is hoping to add to the new range in the near future.
"We're looking forward to brewing a lot more beer, collaborating with local and interstate breweries and eating lots of hot wings at the bar," Kiehne said.
Three more breweries are set to open in Hobart in the next six months leading to the Tasmanian Independent Brewers Association forming to help the growing craft brewers industry.