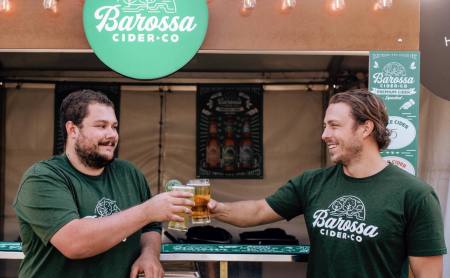 The Barossa Cider Co were the Australian Cider Awards' standout achiever for the second consecutive event as their Cloudy Cider won the 2021 trophies for Best in Show, Best Specialty and Best Australian Cider overnight.

These latest successes for the South Australian cidermakers back up their wins at the same awards in 2019, where their Squashed Apple Cider won Best in Show, Best Australian and Best New World Cider. The 2020 Australian Cider Awards were cancelled because of COVID-19.
Founded in 2013 by brothers Hugo and Oscar Bowen (pictured in that order above), who are the sons of Barossa winemakers Anita and Randolph Bowen, Barossa Cider have been in the winner's circle almost ever since. Their Squashed Apple Cider was named as the inaugural winner of the Champion Cider Award at the Royal Sydney Beer and Cider Show in 2014 and most recently that same release won Best Cider in Show and Best South Australian Cider Exhibit at the 2021 Royal Adelaide Beer and Cider Awards.
Speaking with Beer & Brewer, Oscar said the awards come as "some good news after what has been such a horror couple of years for all industries – but especially on-premise and hospitality".
"(Hugo and I) have always loved the Cloudy but while it's always polled well in awards it's never really broken into that trophy status. So to get this is pretty amazing and to pretty much win the same awards as the last show – but for the Cloudy – is a pretty cool feeling.
"Whilst we're creating a consistent product we are constantly trying to improve all of our ciders every time we make them. So every year, I think, we're seeing all our ciders steadily getting that consistency of ultra-high quality and that's something we wanted to achieve when we started out.
"I guess we're finding that sweet spot at the minute and the fruit we have access to from Ashton Valley and the Adelaide Hills is unbelievable."
A record 22 gold medals were awarded at the 2021 Australian Cider Awards, a sign, Oscar said, that the local craft cider "industry as a whole is improving quality year-on-year".
"It's a pretty exciting time to be involved in the industry – seeing it go from strength-to-strength and the quality going through the roof.
"It's been a slower path to educating consumers (as opposed to craft beer for example) but that happens over time."
As is the case for all of their releases, the locally grown apple and pear Cloudy Cider harnesses Champagne yeast under high pressure to deliver the maximum in fruit flavour.
"I liken it to the epitome of what we try to do (with all our ciders) – which is to have that full, sweet flavour of the fruit up front while on the back palate it's quite dry and refreshing. And because it's a blend of both apple and pear, the whole mouthfeel (of the Cloudy) is a lot rounder still.
"It starts as a 50/50 blend of both apple and pear, which is fermented through to dryness and then we add a full-bodied cloudy apple juice to cloudify the cider so you're getting that nice, abundant fruit flavour up front.
"People can be a bit confused by what the term 'cloudy' means. I guess it's our way of saying 'hazy' in the beer world, maybe. It looks different on the eye but it's also gives it a different mouthfeel."
2021 Australian Cider Award Trophy winners: 
Best in Show: The Barossa Valley Cider Company with The Barossa Cider Co – Cloudy Cider
Best New World Cider: Sidro Del Bosco (Cester Camillo) with Sidro Del Bosco
Best Traditional Cider: Daylesford Cider with Wild
Best New World Perry: The Hills Cider Company with Hills Cider Pear
Best Traditional Perry: Core Cider with Perilous
Best Specialty Cider or Perry: The Barossa Valley Cider Company for The Barossa Cider Co – Cloudy Cider
Best Intensified / Distilled Cider or Perry: Spreyton Cider Co with Fancy Apple Brandy
Best Australian Cider or Perry: The Barossa Valley Cider Company for The Barossa Cider Co – Cloudy Cider
Best International Cider or Perry: Sidro Del Bosco (Cester Camillo) with Sidro Del Bosco
Most Successful Small Producer: Sidewood Estate from South Australia
Most Successful Larger Producer: Spreyton Cider Co from Tasmania
 
You can read and download the full 2021 results catalogue here.