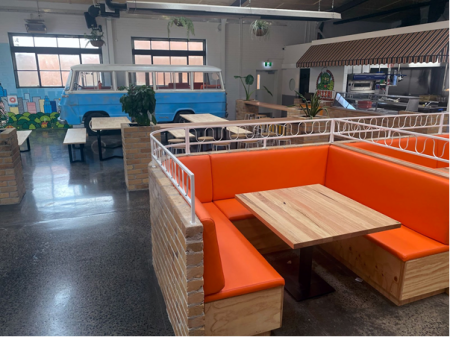 KAIJU! Beer are set to open their first brewpub after almost a decade since founding with their KAIJU! Cantina beer hall and pizzeria opening in Melbourne's South East on February 9.
Located at 27 Hume Street in Huntingdale, the Cantina is housed in a 445 square metre converted warehouse and has been designed by We are Humble Architects.
KAIJU said the venue reflects the local post-war architecture and features soaring ceilings, bright colours, mid-century décor, cosy nooks, communal seating, an outdoor seated area plus a series of hand-painted murals by their longtime design collaborator – the US-based Mikey Burton.
KAIJU's Callum Reeves said ever since brother and fellow co-founder Nat started home brewing at his place in Dandenong they had dreamed of having a taproom in an area they also grew up in.
"We love going to explore and experience the inner north, but we just couldn't pass up the opportunity to bring a new type of venue to this part of town. It really means a lot to us."
The venue houses an on-site six hectolitre brew kit for limited edition and one-off brews which Nat said they were looking at freeing up for student brewers on days when KAIJU! Cantina isn't trading.
"We're really passionate about making beer and so we're always thinking about ways to support the next generation of brewers with real industry experience," Nat said. "Eventually, we'd love to feature some of the beers that come from these collaborations on our taps."
When open visitors will be able to enjoy the full KAIJU range from the 16-tap bar as well as locally made wines, spirits and non-alcohol options.
The new venue's manager is Darcy Murphy (ex-Blue Bar, Wolf of Windsor), long-standing KAIJU team member Fiona Lane (ex-Stone & Wood, Little Creatures Dining Hall) is its general manager and hospitality consultant Lori Smith will help launch the venue.
Chef Jay Jafari will showcase a selective, seasonal menu where pizzas will be the hero with the likes of a cheeseburger pizza (San Marzano tomato, American cheese, red onion, ground beef, pickles, mustard) will go up against a list of classic Italian styles.
Callum added: "The idea for KAIJU! Cantina is that it doesn't just cater to craft beer connoisseurs, but that the food is just as big a drawcard in making it a destination venue. Jay has been hand-stretching bases for 20 years and as a result, has an uncanny ability to make a superb pizza — every single time. I can't wait for people to discover and fall in love with his food."
A stand-out among a number of the Mikey Burton murals is a 12-metre panorama of the Melbourne city skyline featuring the likes of the MCG, Flinders Street Station and St Kilda Beach in his signature KAIJU style (pictured above).
In keeping with the playful feel of the venue, a different approach to seating pint-sized patrons has been taken in the form of a classic, 1960s Toyota Coaster Bus which has been converted into a mini booth seated area.
Located near Huntingdale station, Chadstone Shopping Centre and Monash University's Clayton Campus, KAIJU! Cantina will trade Wednesday to Thursday from 4pm until late and Friday through Sunday 11am until late with an all-day kitchen.