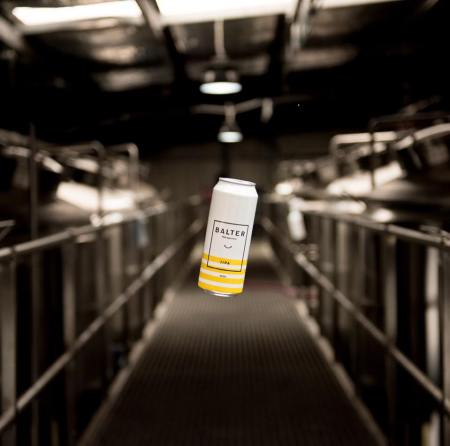 Popular Gold Coast brewery Balter has released a limited-run Imperial IPA. Bursting with hops, strong in ABV and coming in a tall, 500ml tinnie, it's the brewery's biggest beer yet – and leads the charge in what has been an exciting week for new releases. 
"We've never brewed a beer this big, so it was a test of our capacity," says Balter head brewer Scott Hargrave. "We had to figure out just how much malt can we get in the mash mixer without it overflowing. We got a tonne in. It's a huge beer, hopped to the shithouse."
Only the brewery's second ever special-release of the style, the recipe has been refined over the last six months to deliver a strong flavour that's still balanced in its approach.
"IIPA can be overbearing because they're big and boozy and get sweet and sticky," explains Hargrave. "You have much more of everything. So we stripped the malt way back to be essentially pale malt with a sprinkle of wheat then dissolved as much hops as we could into it.
"That should give it more drinkability. Still, stop at one and you're good. Maybe that's a challenge to some, but it's meant to be a stand-alone salute."
Packaged in a 500ml tin with four distinctive yellow stripes, and clocking in at 8.6% ABV and 105 IBU, Balter IIPA is described as a "tangy fruit salad with extra punch."
"Clean, hefty hop notes provides substantial palate weight with hints of pineapple, pine and citrus, while the higher alcohol content delivers a delightfully dry, spicy finish," reads the tasting notes.
Available at selected outlets for a limited time, you'll have to get in quick. Handily though, Balter have built its very own locator – click through to find your nearest stockist.
BentSpoke Red Nut Red IPA
BentSpoke Brewing Co has launched its latest Drifter Series beer and only its sixth packaged beer: the "Red and Hoppy" Red Nut, a Red IPA. 
According to BentSpoke, Red Nut has gained a fanatical following in BentSpoke's Braddon Brewpub and it was only a matter of time before it was made available to a wider audience.
"We listened to what the fans were saying, and we couldn't keep them waiting any longer," says BentSpoke co-owner and head brewer Richard Watkins. "As the leaves turn, and the days get shorter and colder, people's thoughts turn to darker beers.
"Red Nut's fans have been vocal and frequent on social media, so we hope they're going to enjoy it now in cans."
A Red IPA, with a resiny hop and caramel malt character, Red Nut features Fortnight, Mosaic, Citra, EKG, and Amarillo hops for a big hoppy punch on top of a strong, dark, malt base. Red Nut clocks in at a solid 7.0% ABV, and comes packaged in a 375ml can with BentSpoke's signature 360-degree lid.
Stomping Ground Astra Man Fresh Hop Pale Ale
Stomping Ground has released a fresh or 'wet' hop pale ale called Astra Man, using a new strain of fresh Astra hop flowers from Ellerslie Farms – with the beer being brewed the same day that the hops were picked.
To showcase the freshness of the very limited edition beer, Stomping Ground personally delivered cases of the beer to the fridges of inner Melbourne bars and venues within 24 hours of it being canned on March 1.
Three weeks earlier, the brewing team were invited by Ellerslie Hop to their King Valley hop farm in Victoria to pick the first of their newly developed Astra hops, the day before the 2018 harvest officially began.
Described as herbal, floral and melon-y, a very limited supply of the 5.5% ABV Astra Man were made available at select bars and bottle shops around Melbourne last Friday – so you'll have to get in quick to grab a couple!
Coopers Session Ale
Coopers has launched its popular Session Ale – previously only available on tap – in cans and bottles.
The refreshing summer style beer was launched in kegs to the hotel trade late last year. Coopers' Sales and Marketing Director, Cam Pearce, says that in January this year, Session Ale had become Coopers' second largest selling keg beer after Original Pale Ale and ahead of Sparkling Ale and Mild Ale.
"It's been a tremendous response," Pearce says. "As Session Ale has become better known, we have been inundated with customer requests for it to be released in a packaged format.
"It's an excellent example of innovation by Coopers' brewers and as a beer, it is fully on trend. We believe Session Ale will quickly establish itself as one of our most popular beers."
East 9th Brewing: Doss Blockos 'The Colour Of Beer' Unlimited Pale Ale
In an ironic wink at the practice of copyright and ownership of colours by large corporations, East 9th Brewing has created an 'official' colour of beer with its latest cheeky release.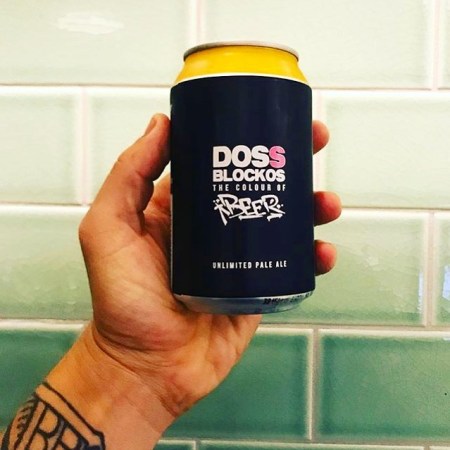 In order to find the 'official' colour of beer, the East 9th Brewing team collaborated with Australian street art company Ironlak, which supplies spray cans and art supplies for graffiti artists.
"The can design of the new Doss Blockos The Colour of Beer imitates the iconic Ironlak spray-can design," Benjamin Cairns from East 9th Brewing explains.
"Ironlak is simultaneously releasing the spray-paint can across the globe knows as Ironlak's 'Doss Blockos The Colour of Beer'. It's been matched as closely as possible to the colour of the actual beer."
The beer itself has been designed to be the "ultimate session beer"; Cairns says that "it's the type of beer that the East 9th Team love to drink – it's generous on the tropical notes (delivered by a combination of three hop varieties), without being too heavy on the bitterness."