Balter, the Gold Coast brewery backed by some of Australia's top surfers, has launched its first beer, Balter XPA, and is set to open its taproom early next month.
With a team that combines surfing legends Mick Fanning, Joel Parkinson, Bede Durbidge and Josh Kerr, and a top brewer like Scott Hargrave (ex-Stone & Wood and Byron Bay), the launch of Balter was always going to cause a swell.
"We are a group of friends who came together over a love of beer. We have various backgrounds from marketing, start-ups, technology, brewing and construction, which creates a melting pot of relevant skills for running a brewery and beer brand," co-founder Stirling Howland told Beer & Brewer.
Balter XPA is the Curumbin Waters based brewery's first beer and it sits at five per cent ABV and about 30 IBU; it showcases a blend of American hops most notably Amarillo and Citra.
"The Balter XPA has tropical and floral aromatics, broad fruity palate, with a refreshing bitter finish. It's for people who enjoy a hop forward beer that's still smooth and easy to drink," explained Howland.
"After being in market a couple of weeks the consistent feedback is 'I can't have just one', which is a great compliment to Scotty and Balter."
While Balter XPA is currently only available on-tap, the team are working to get cans out to market soon.
"We fired up the canning line last week to put it through its paces and right now we are trialling and testing them, with the goal to be in market early May," said Howland.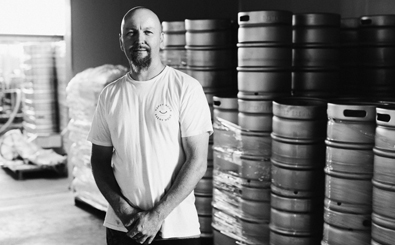 The taproom is set to open in the coming weeks, bolstering the already bustling Gold Coast craft brewing scene.
"We open early April and to start we'll have three beers on pour, which will be an XPA, a Brown Ale and an IPA. There are 12 taps in our tasting room and the goal over time is to have them full," explained Howland.
"Scotty is stoked because besides the 35HL system he has a 500L pilot system built primarily for experimenting and he has full freedom to brew whatever he feels like. That means no style is off limits, making the Balter taproom beer experience wide and varied. We also see these taps acting like a voting system in a lot of ways and if a certain style is performing really well it'll most likely graduate for broader consumption.
"As for food we will be teaming up with local food trucks certain days of the week and doing special food/beer events with chef Matt Stone."
While it's a busy time for the team at Balter, with good beer, events and the taproom to organise, 'enjoying the ride' is still top of mind.
"Right now we are focused on making great consistent beer, working with our venues, nailing our Good Beer Week event with Matt Stone called Coal Lotta Love, opening our tasting room and getting our canning facility in full swing… but most importantly having a lot of fun along the way."