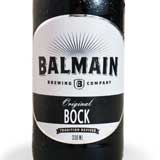 The Balmain Brewing Company has brought one of the flagship beers from the brewery's earlier incarnation back to life, offering the Balmain Original Bock for the first time in a little over 30 years.
The Balmain Original Bock is a true-to-form German dark Lager, which the brewers describe as boasting "a perfect mix of malt flavours, roast coffee and caramel on a clean spicy hop backbone which gives this classical beer great balance."
"We are thrilled to relaunch the Balmain Original Bock again after all these years. As a ground breaking, innovative, pioneering and unique craft beer, it will continue to excite Australians familiar with the brand." said Glenn Cary, CEO, Balmain Brewing Company.
The Balmain Original Bock is available in bottleshops around Australia, and on tap in selected venues. For more information, head to the Balmain Brewing Company website.