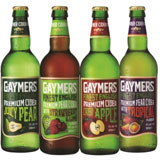 It's been a very busy time in cider, as the big players in the Australian liquor industry have jostled for market position. Not to be outdone, and hot on the heels of a freshly-inked distribution deal for Magners cider, Bacardi Lion has brought yet another big cider brand to market here in Australia.
Gaymers Premium Cider is one of the biggest names in cider in the UK, alongside stablemates Magners and Bulmers, and is most widely known as the brand behind some of the biggest music festivals in Britain, including Glastonbury, Leeds and Reading.
The launch includes four variants; Crisp Apple, Juicy Pear, Premium Pear with Strawberry and Lime Flavour and Premium Pear with Tropical Flavour. Initial release will be in 500ml bottles, available around the country very soon.