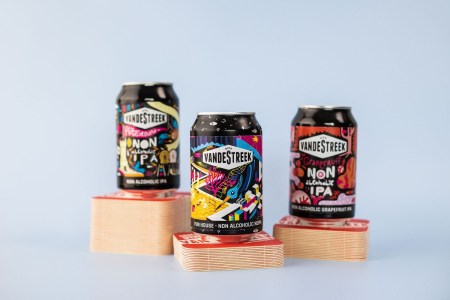 We often hear the European non-alcoholic craft beer market is years ahead of our domestic one (even though it's doing its best to catch up, and fast!). So now you can try some of that continent's best and judge for yourself – as Dutch brewery Vandestreek Bier's non-alcoholic Playground IPA, Grapefruit IPA and Fun House NEIPA are all now available here.
Founded by Ronald and Sander van de Streek in Utrecht in 2013, Vandestreek released Playground – their first non-alcoholic beer – in 2017 to immediate success as it garnered Dutch and Belgian beer competition awards in the ensuing years. Following that, the Grapefruit IPA and Fun House NEIPA were released which were recently awarded bronze and silver respectively at this year's Dutch Beer Challenge.
As well as their non-alcoholic range, which also includes the less than 0.5% coffee nitro stout, witbier, kettle sour and grapefruit IPA, Vandestreek produce the full gamut of alcoholic beer styles in both their core and seasonal ranges while they also operate a barrel program.
Imported to Australia by Storeywood Distributors, Playground IPA is available online with Craft Zero and Sans Drinks and in-store at Vintage Cellars, First Choice, selected Dan Murphy's and BWS stores and in independent bottle shops and restaurants. Grapefruit IPA and Fun House NEIPA are available online at Craft Zero and Sans Drinks.
Kirsten Storey, co-founder of Storeywood, said: "Pioneering breweries like Vandestreek are creating a new generation of non-alcoholic craft beer. It's nothing like the watered down, tasteless 'near beers' of the 90s. This is serious craft beer – but without the alcohol".
Sander and Ronald added: "We brew beer because we love it. And we want to allow as many people as possible to enjoy beer. We don't make any concessions with any of our beers – everything we brew is top quality, and that goes for our non-alcoholic range as well," Sander and Ronald van de Streek, Founders and Brewers, Vandestreek Bier.