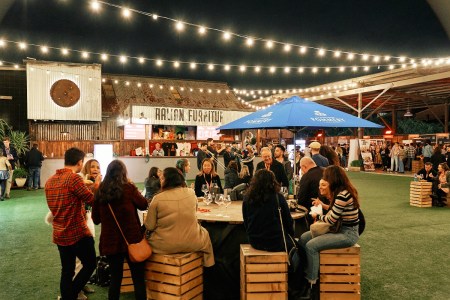 Heaps Normal, Brick Lane, Bridge Road and Sobah will be flying the craft beer flag when Australia's first no and low alcohol drinks festival takes place in Melbourne next year.
Called Picolo, and run by the company behind the Pinot Palooza and Mould festivals, the NoLo event is on February 11 at Melbourne's Timber Yard. It will feature 30 low and zero-alcohol drinks producers, including Heaps Normal, T.I.N.A, NON, Better Beer, Four Pillars, Ovant, Senza, Banks Botanical, Sobah, Lyres, Yes you Can, Gruppetto Spritz, Mischief Brew and Giesen with more to be announced.
Dan Sims, CEO of the organising company Revel, said Picolo is a big day out minus the hangover that is taking place just as some New Year's resolutions might be on the wane and appropriately in the middle of the alcohol consumption reduction event FebFast.
"There's been a huge cultural shift around drinking in recent years and people are realising that not every social drink needs to have booze in it to be enjoyable.
"As a result, the no-low beverage market has experienced extraordinary growth in Australia over the past couple of years, and, in good news for punters, the quality, flavour and integrity of these drinks have kept pace to really change the game.
"It's also clear that the appeal of these drinks is really broad – from the staunchly sober to the sober-curious, pregnant mums, health-conscious folks and those just open to mixing it up and doing drinks differently. It's not about being anti-alcohol; or what's been taken out, these are truly unique and delicious drinks that anyone can enjoy, for any reason. We're just really excited to present the absolute best of the low-no category and give folks the chance to sip a little, learn a lot and discover inspiring drinks that just happen to be low and no alc."
The event will also feature a live cocktail competition starring some of Melbourne's top bar-tenders and overseen by Nick Tesar who was recently awarded Diageo's World Class Australian Bartender of the Year for 2022. The competition will see bartenders paired up to design a signature cocktail from six NoLo spirit companies featured at Picolo. The resulting concoctions will then be judged by a panel of experts comprising Nick Tesar plus drinks writer Mike Bennie and Swill Magazine editor Myffy Rigby, with all cocktails made to order and available for punters to purchase at the festival bar.
Adding to the festivities will be live music from a DJ and roving band, along with activations and games including the T.I.N.A arena roller-skating rink, "Beersketball" by Heaps Normal and a limbo competition for punters to reach new lows in-between sips.