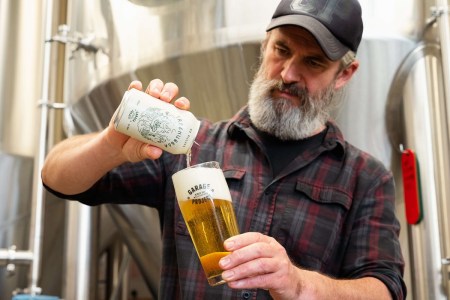 Kiwi brewery Garage Project are well known for experimentation in the brewhouse but their latest release is an experiment in making a beer in the most sustainable way possible.
All the ingredients used in their Treehugger NZ Pilsner (4.0% ABV) are locally sourced and sustainably grown, including low footprint hops, which were transported via lower emission freight. The beer is then packaged in more environment-friendly ways via the minimal use of plant and water-based ink and an outer box made with a higher level of recycled content. The lager was brewed at a higher ABV to reduce energy and they changed their normal processes to reduce CO₂ use by locking in natural CO₂ for carbonation and purging cans with nitrogen instead of CO₂. The brewery itself uses certified renewable energy.
Garage Project has also committed to giving $1 from every six-pack sold to funding grassroots tree planting projects in New Zealand. This means that for every case sold (four six-packs), a tree is planted.
The Wellington brewery said it intends to apply learnings from Treehugger to their overall business processes and have now invested in new technologies to achieve it.
These include valves to keep carbon dioxide in the tanks, a carbon dioxide recovery unit and a new warehouse cold room that uses 25% less electricity day to day, and reduces the climate change impact of any refrigeration leakage into the atmosphere by 1,200 times compared to the industry standard.
Head brewer and co-founder Pete Gillespie (pictured above) said making Treehugger was a "unifying experience" for the team and suppliers.
"We're on a sustainability journey at Garage Project. We are not perfect, but every day we're looking for ways to reduce waste, lessen our carbon footprint and minimise our overall impact on the earth. Creating Treehugger was a chance to go further.
"Every part of our business came together around the table to make the most sustainable product we possibly could. Our key suppliers Gladfield Malt, Freestyle Hops, OJI Fibre Solutions and Blue Star were all on board. We threw everything at the wall. No big, or small chance to do better was left behind."