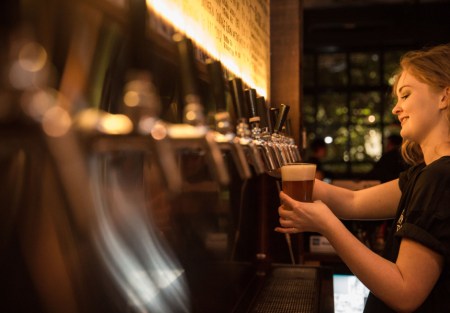 Darlinghurst continues its reign as the craft beer drinking capital of Australia after the Sydney suburb took out Beer & Brewer magazine's best beer venue in the country award for the second year running.
On the back of The Taphouse's standout victory in 2019, postcode stablemate Bitter Phew was judged this year's best beer venue in Australia and reclaimed the title it won back in 2017.
The full list of Australia's Top 65 Beer Venues can be found in the Winter edition of Beer & Brewer which is out now via digital and print subscriptions plus in newsagents, liquor stores and home brewer shops. We detail who the judges consider to be the standout beer venues across Australia, including those beer bars who shined in the categories of Best Community Venues; Best Decor; Best Food; Best Staff; and Best Regional Venues.
Subscribe to Beer & Brewer here.
When contacted about the win, the Bitter Phew's owner Aaron Edwards said the news came bittersweet.
"It's pretty hard to hear actually. With what's been going on, with other places closed, and people doing it tough. We've not been immune to the challenges either," he said.
"And yet on the other hand we'll take the win because we'll take what good news we can get right now."
Edwards guessed the secret to Bitter Phew's success in the judges' eyes was due to their balanced approach.
"We've worked hard to get our product offer on point. And we're not all about volume and neither are we all about the extreme side of beer.
"We've always had a policy that everyone should feel welcome here and I feel that what we have on tap is a reflection of that.
"Our hospitality has to be of the highest level as well and for us our staff are just as important as our product offering."
Bitter Phew were joined in the Top 5 list of best beer bars in the land by the Dutch Trading Co (WA), Netherworld (QLD), Gilbert St Hotel (SA) and Besk (WA).
One of the judges, Justin Fox, the former head of brewing at the Colonial Leisure Group and now head of sales, products and development at Bintani, said this of Bitter Phew: "Every time I have been here in the last three years, I am greeted with a long list of beers I have never tried and rarely even seen. They do a fantastic job of putting together an offering that spans the beer universe, both in style and the origin of the breweries."
Another judge, Batch Brewing Co's Liam Pereira, said: "For the pointy end of the stick, when it comes to good beer, you can't go past Bitter Phew. With a good emphasis on international breweries and a huge can and bottle list."
Did we miss your favourite craft beer spot? Tell us on Facebook or email us here and we'll ensure our scouts pay it a visit soon – when restrictions allow of course.
Contact Beer & Brewer by clicking here to share your news and views.