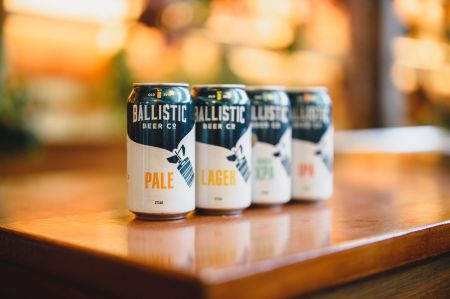 Ballistic Beer Co tweak core range – Queensland's Ballistic Beer Co have this week unveiled a new look to their core range cans that also come with tweaked recipes and price points. The brewery said it was one way they could drive the brand out of the current COVID-19 impacted environment. "We had a great base to work from and the designs and beers have served us very well but in the craft beer business if you aren't evolving and moving forward, you're going backwards," head brewer Lachy Crothers said. "We have used this opportunity to make some of the changes we have been wanting to make for some time." All of their core range, apart from their mid-strength Cold One (formerly called Pilot Light), have seen a reduction in ABV which has allowed Ballistic to maintain, or in some cases reduce, its wholesale prices. "While the objective of the refresh was not to change prices, we didn't feel we could reduce the alcohol percentage and save on excise without passing this saving onto our wholesale and retail customers," CEO David Kitchen said.
Modus release stout and recipe – Mona Vale's Modus Operandi are celebrating the Queen's Birthday holiday weekend with the release of their Russian Imperial Stout MMXX and have unveiled the recipe for DIY brewers to try at home. The MMXX sees Modus partner with Gladfield Malt and it features seven specialty malts. The malt bill converted for a 30 litre batch is: Ale Malt 68%, Aurora Malt 5%, Redback Malt 5%, Toffee Malt 5%, Barley Flake 5%, Eclipse wheat 5%, Roasted Barley 7%. Salt: 8.8 Calcium Cabonate, 2.5 Calcium Sulfate. 90 Boil. With these classic European styles Modus used a simple hop schedule of: 45 Ibu at 60' with Challenger 50g 13% Magnum, 5 ibu at 10 mins with East Kent Goldings 60g 4%. ABV 8.5% and final gravity 4.5 Plato.
GABS change dates, cancel Auckland event – The organisers of the GABS Festival are confident they can still stage this year's events in Melbourne, Brisbane and Sydney but have made the decision to cancel the Auckland event. The new dates are: GABS Melbourne Friday 30 October – Sunday 1 November at the Royal Exhibition Building. GABS Brisbane Saturday 14 November at the Brisbane Convention & Exhibition Centre. And GABS Sydney Friday 27 – Saturday 28 November at the Sydney Showground. GABS Auckland was due to take place on July 4 but the organisers said due to: "the ongoing uncertainty around international travel to New Zealand and venue availability, we have consulted with our Auckland event sponsors and brewers and made the difficult decision to cancel GABS Auckland".
A Good Beer Always Helps raises $52, 253 – Thanks to over 750 generous donors, the 'A Good Beer Always Helps' campaign closed this week at $52, 253. The support from individuals and companies means 2,612 four-packs of local craft beers have been sent, or will be on their way, to thank Aussie essential workers for keeping Australians safe during the COVID-19 pandemic. "It's been fantastic to deliver beers to you, to meet you, to hear from you and to share your stories. We hope the campaign has been a really positive way to say thank you for everything that you do at a challenging time," The Good Beer Co's James Grugeon said.
Dollar Bill Brewing release Candy Paint – Invermay-based Dollar Bill Brewing have released Candy Paint – a barrel-aged cherry sour ale. Sour and complex, the two year barrel-aged release is a pseudo-lambic ale which Dollar Bill says is "rested on sour cherries, with hints of brettanomyces and deep lactic acidity intertwines with Malic acid and fresh cherry flavours".
Free kegs up for grabs for Sydney pubs and bars – Sydney independent brewery Endeavour Brewing Co are offering 100 free kegs to help out Sydney-based pubs and bars. To qualify for an order, call 1300 BUY BEER. "Enjoying a schooner at the local pub is at the heart of Aussie culture. We want to do our part to support our local pubs and bars, in any way we can," general manager Paul Lambert said.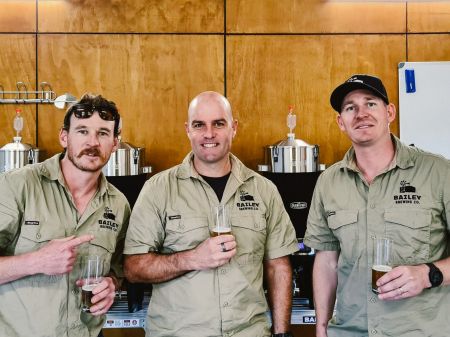 Bailey Brewing Co appoint new head brewer – Things are gearing up for the Swan Valley's Bailey Brewing Co as it appoints its first head brewer and awaits the opening of its brewhouse. Damien Bussemaker (centre, with co-directors and brothers Dan and Steve Bailey) will oversee the fit-out of the brewery and the development of its core range ahead of a planned opening in Spring this year. He honed his craft at Elmar's in the Valley, before moving to Mash and, most recently, Odgens in South Perth where he was head brewer. "What appealed to me about Bailey Brewing Co is how they are focused on bringing families together and keeping things as local as possible. I've got two kids and live close by, so this role ticks the boxes for all of us," Damien said. The 200,000 litre capacity brewery plans to use local ingredients where possible while a coffee roastery will also be installed at the site. Development of their core range has begun and will consist of a selection of "simple, yet flavourful, beers in crowd favourite formats" including a pale ale, lager, IPA, NEIPA, mid strength, plus a cider.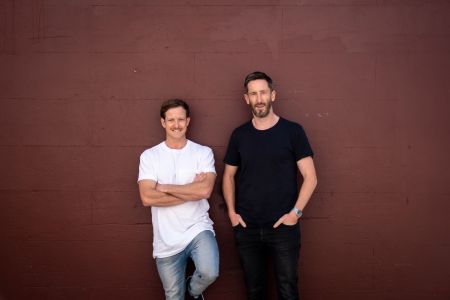 Kaddy banks $3.5m in funding – B2B beverages marketplace Kaddy announced this week the completion of a $3.5 million dollar funding round. KTM Ventures, SpringCapital and restaurateur John Szangolies have backed Kaddy while many of the other previous investors continued their backing. A statement said the new funds would help the Sydney start-up enhance its platform capabilities, grow the team with ten new hires expected this year, and expand interstate to Victoria and Queensland (currently in NSW and ACT only). International expansion is also on the horizon for late 2020. Kaddy is co-founded by Rich Coombes (co-founder of Batlow Cider, Capital Brewing and Will & Co Coffee) and Mike Abbott (previously co-founder of Uber in Australia).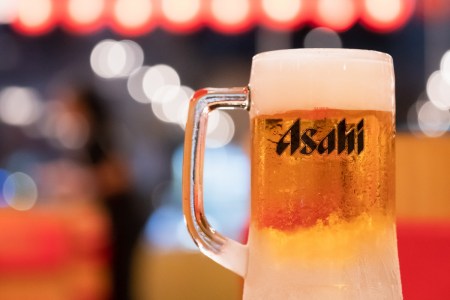 Asahi completes CUB acquisition – Asahi Beverages announced this week it had completed the acquisition of Carlton & United Breweries. Asahi chair Peter Margin said: "This is a very exciting time to be part of the Asahi Beverages family as we embark on the next chapter, as the Oceania regional hub for Asahi. The acquisition of CUB will mean that Asahi Beverages is able to offer customers and consumers an even broader range of great tasting beverages with the addition of some of Australia's most popular and well-loved beer brands."
Young Henrys bring the tunes and the beer – Young Henrys have teamed up with Inertia Music to deliver the ultimate beer pairing that's certain to bring good vibes and tasty suds direct to the backyard. For a limited time, Young Henrys are offering a 12-inch vinyl and a case of beer for just $85. Vinyls include Body Type (pictured), The Delta Riggs, Alex Cameron or Hazel English.
Contact Beer & Brewer by clicking here to share your news and views.