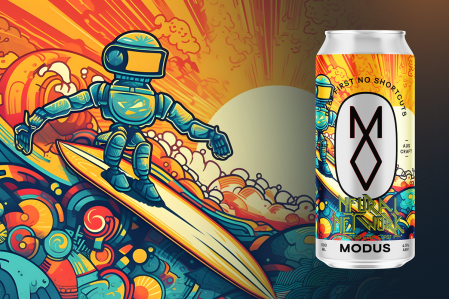 Modus Brewing have partnered with Absolutely A.i. to create the limited release Neural Network East Coast IPA that was designed entirely by artificial intelligence.
Modus said AI produced a proposed recipe from its understanding of "what makes the perfect East Coast IPA" based on hundreds of thousands of reviews while the name, the label and its tasting notes were also generated by an AI program.
Modus' head brewer Cameron Mackey said: "The AI brew is a testament to the power of current technology and innovation in the brewing industry.
"Satisfyingly, for me and our team, working with Absolutely A.i. and what I thought would be a robotic tyrant, was far from the case. We have a beer recipe and direction that is very exciting to share with our fans as a limited release. The AI has definitely impressed with its knowledge and understanding. Nothing can replace the human element and need for natural senses in brewing."
Absolutely A.i. founder Jamie Sissons added: "We're excited to be at the forefront of this groundbreaking technology. This partnership with Modus to create the world's best craft beer using only AI tools is a testament to the power of innovation, collaboration and the exciting potential of artificial intelligence to produce something unique".
AI-generated tasting notes: Experience a tropical paradise in every sip of this East Coast IPA, featuring a balance of sweet malt and hoppy bitterness with notes of grapefruit, orange and passionfruit. Enjoy its smooth mouthfeel and refreshing finish on a warm summer day or paired with spicy dishes.