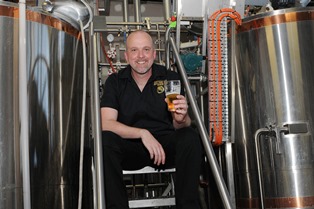 Australian Brewery head brewer Neal Cameron
Award-winning craft brewer,Australian Brewery, has ticked another country off onits now growing list of export partners, adding Malaysia to its international distribution locations.
Having signed contracts to supply to Japan in June and India late last year, the iconic craft operation is continuing to take leaps and bounds in the global market.
The deal will see the Australian Brewery's canned craft beers arrive in Malaysia in September, initially being provided inTaps Beer Bar, one of Malaysia's first craft beer bars in Kuala Lumpur that opened in 2012. Run by two Australian brothers, the bar will be the first location to serve the beer, with plans to sell the beer around the country.
Malaysia – a country not typically known forits beer – has had an expanding beer culture over the past five years, with more and more craft beer bars opening and international craft beers having an impact on the market. There are no craft beer producers in the country, opening the market for mid-sized Western producers like the Australian Brewery to help develop the culture of craft beer.
With craft beer being a relatively new introduction to Malaysia, the drinking palate issurprisingly diverse, with a huge range of flavour profiles being appreciated. According to importers the locals enjoy big flavours, from hoppy ales to pale ales.
Neal Cameron, head brewer for the Australian Brewery, said the export market is looking for Australian breweries willing to have a go.
"We are noticing a real shift in people seeking craft beer both here in Australia and overseas,"he said.
"This is a good sign for Australian craft brewers looking to expand into these overseas markets. Some of us have already dabbled in America, Europe and Asia, with brands such as Coopers, James Squire and others making the shift."
With a range of beers crafted around the international flavours and styles, the Australian Brewery has put their own unique twist on each one to give them a classic Australian taste.
"We've had success at a number of international trade shows, and each country represents an entirely new audience," Cameron stated. "We are always interested to see how international audiences respond to our taste in craft beer. With Malaysia's relatively 'fresh' palates, we think that we can teach them something new about craft beer."
The Pale Ale and Pilsner will be available at Taps Beer Bar and other locations in Malaysia in cans and kegs from September.