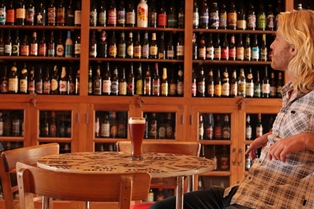 The Beer Pilgrim getsready to celebrate International Beer Day
With International Beer Day tomorrow (1 August), a recent survey has revealed 75 per cent of adult Australians engage in a cultural ritual before taking the first sip of beer.
The top beer drinking traditions include saying cheers (56 per cent), shouting a round of drinks for friends (31 per cent), pouring a drink for everyone in the group before themselves (31 per cent), looking a drinking partner in the eye when clinking glasses (20 per cent) and saying cheers in a different language (15 per cent).
Female beer drinkers are more likely than men to say cheers, but guys are more likely to buy a round of beers for their friends. Aussie beer drinkers are also an adventurous bunch with 92 per cent of them admitting to trying local brews when overseas.
The survey, conducted by Galaxy Research on behalf of Lion, enlisted more than 1,000 adult Australians to find out about their approach to beer drinking rituals and experiences in the lead up to International Beer Day.
The Beer Pilgrim, a lover and discoverer of beer, recently embarked on a journey to uncover the role that beer plays in the many cultures living in Australia, and discovered that while drinking customs around the world are incredibly diverse, the symbolism behind them is quite similar.
"Many cultures practice their own unique rituals while enjoying their favourite beer, but the common thread that connects many of them is the way that they are designed to bring adults together, and build a sense of community," said The Beer Pilgrim.
"International Beer Day is a global celebration of beer, and is a day for adult Australians to raise a toast to this humble beverage. It is also a chance for people to taste a new nation, by choosing something a little different. If your preferred style of beer is a lager, why not try a hoppy pale ale or a stout, and if you always reach for a local brand, there is no better time to sample an international beer."
To celebrate International Beer Day, The Beer Pilgrim is inviting Sydney-siders 18+ from all countries, cultures and backgrounds to take part in a World Record attempt for the 'largest beer tasting at a single venue' tomorrow at Ivy's Sunroom.
The World Record attempt is limited to the first 350 people, with participants to arrive by 5.30pm to secure their spot and collect a tasting paddle, containing a selection of three local and international beers to sample for free.
For more information, click here.