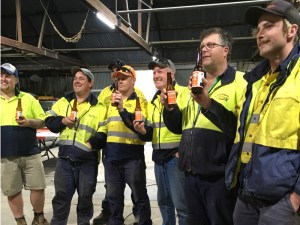 A South Australian barley grower has decided to start brewing its own beer.
AG Schilling & Co is a family farming business that grows grains and legumes across more than 2,000 hectares on South Australia's Yorke Peninsula, a region around 150km northwest of Adelaide that is renowned for producing quality barley.
The family grew Banks barley, which is still going through the accreditation process, in 2017, and had it malted at Voyager Craft Malt in New South Wales last year before sending it to Clare Valley Brewing, who made the Yorke Premium beer under contract.
"We saw a lot of craft breweries popping up but what we could never get our heads around was why we weren't getting into it as malt barley producers," says Mark Schilling of AG Schilling & Co.
"Why is this any different from the wine industry – they grow grapes and they turn them into wine so why don't we make our own beer from the barley we grow?"
The first 800-litre batch of Yorke Premium's Malbro Mid was made in September while a second 1,600-litre brew, which has gone into a mixture of kegs and stubbies was put down at the start of this year.
The Kolsch style session ale has a 4 per cent ABV and uses Fuggles and Target hops to provide a subtle bitterness and spice.
The barley was grown in a single paddock at Agery on northern Yorke Peninsula on a share farm worked by AG Schilling & Co and owned by the Adelaide-based Hallo family trading under the name Malbro Pty Ltd.
Schilling says the first batch was mainly given away but Malbro Mid is now starting to be distributed to restaurants and community clubs mainly on Yorke Peninsula.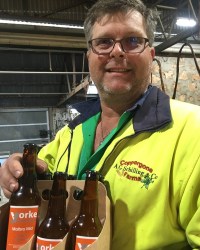 "We had something like 380 people come and visit us last year and it's always nice at the end of the exercise to show people what you're doing," he says.
"It's a bit hard to show people that you grow wheat and barley –it's just wheat and barley – but when you pull out a beer they go 'how good is that'? The Yorke Premium name was chosen so we could bring brand recognition back into play – we're growing beautiful stuff here but we just never hero it.
"The Barossa Valley has been doing it for 30-odd years, the Coonawarra does it, McLaren Vale does it, so Yorke Premium aims to do the same thing."
AG Schilling & Co grew 400 tonnes of Banks barley in 2018, which Schilling hopes to have malted at Coopers in Adelaide this year.
"Banks fitted a lot of our criteria, it's a good variety and we felt it had the right attributes for the craft beer market so we used it.
"We've been talking to Coopers and we're doing some malt trials with them so hopefully Yorke Premium will be able to supply them with barley to get malted and we'll be able to buy back some of our barley to make beer to sell under our brand name.
"Everyone's tastebuds are different but what we found with the Malbro Mid is it's just a good drinkable beer that appeals to most people and the only way we're going to survive is to have some volume go through."
Schilling and his wife Merridee have just returned from the United States where they looked at a malting plant. They have also visited more than 30 breweries in South Australia where Schilling says they were disappointed to find the majority using malt sourced from overseas, particularly New Zealand.
Schilling is also a part-owner of private breeding company Grains Innovation Australia, which is developing a number of barley varieties specifically targeted at the craft beer industry.
"We've been growing varieties in Australia that are suited to the bulk beer market – not the craft beer market," he says. "A different type of malt barley is required and we are now starting to identify those varieties.
"I don't want to do a brewery because everyone's doing breweries but I want to help craft breweries take a better product to market."