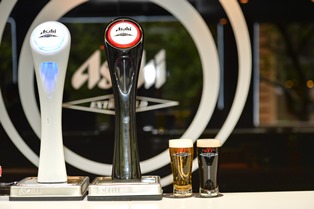 Inside the new Asahi Super Dry Extra Cold pop-up bar
Asahi has launched its first Australian pop-up bar, the Asahi Super Dry Extra Cold Bar, in the heart of Sydney's business district on Bligh Street.
Officially opening its doors tomorrow (October 24) the venue offers the opportunity to taste Asahi Super Dry and Asahi Super Dry Black – poured fresh, at sub-zero temperatures.
The pop-up bar is the first venue in Australia to pour on tap the dark lager Asahi Super Dry Black Extra Cold, which is slightly maltier and fuller bodied than Asahi Super Dry, yet still refreshing and crisp.
Asahi's dark lager
Asahi Premium Beverages marketing manager Michael Vousden anticipates a steady flow of beer enthusiasts, throughout the hotter months.
"We know once people try Asahi Super Dry in its perfect state – poured fresh and served extra cold – they'll immediately appreciate the concept of the 'perfect serve'. This, in essence, is the driving force behind the Asahi Super Dry Extra Cold Bar," said Vousden.
"By chilling Asahi Super Dry beer to -2 degrees, the beer head maintains its high bubble density for longer, which creates a smoother texture, and ultimately makes it more refreshing. We're looking forward to sharing the Asahi experience with as many people as possible this summer."
The Asahi Super Dry Extra Cold Bar is located at 37 Bligh Street Sydney and will be open to the public from tomorrow through to Friday, 23 January. Opening hours are from 4pm-10pm Monday – Wednesday and 12pm- 10pm Thursday – Saturday.