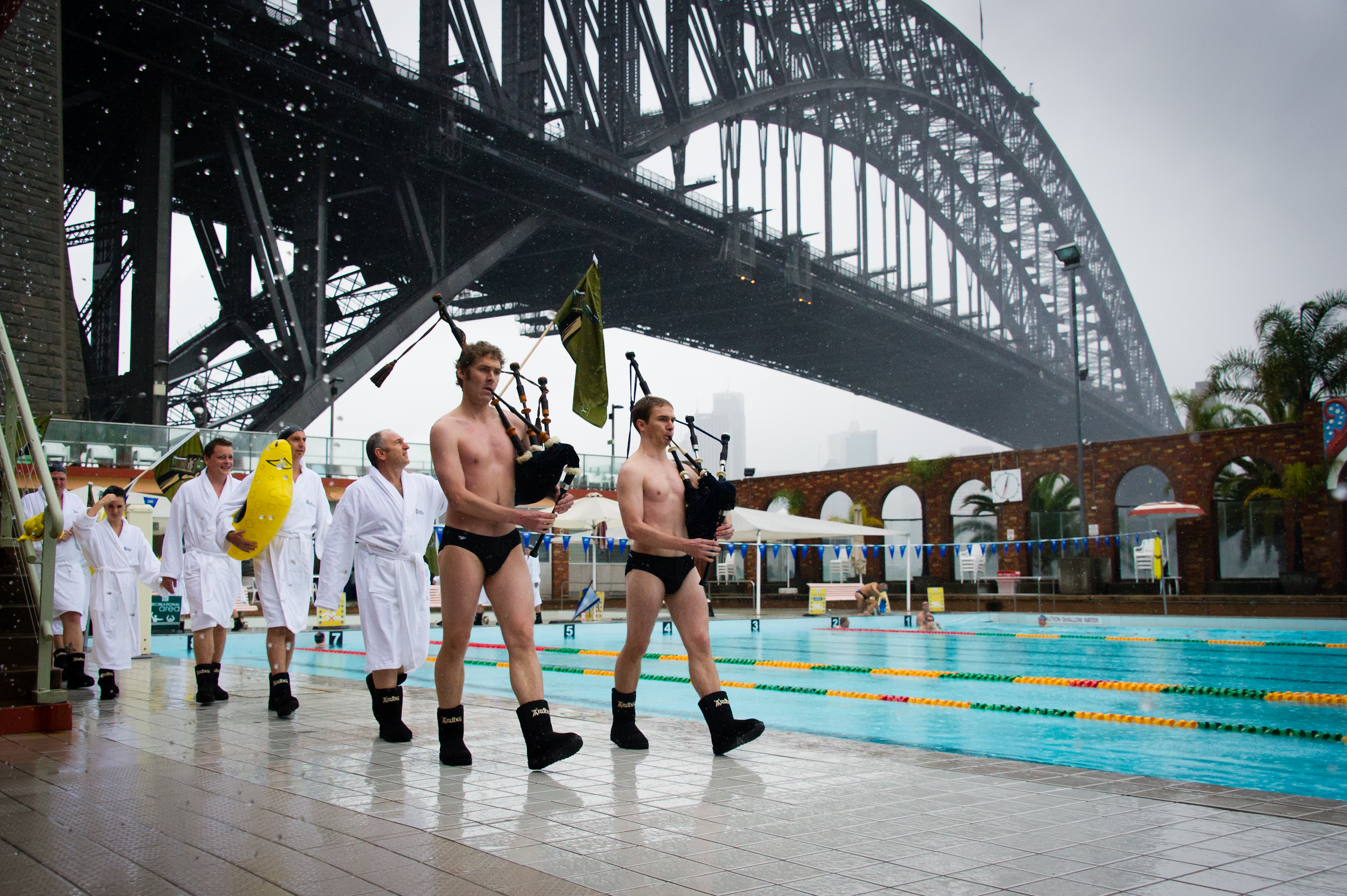 The Opening Ceremony was carried out in very Scottish conditions
It was a grey Scottish-style day in Sydney as the Ardbeg unveiled the global launch of Arbeg Day – a day for the world to come together and celebrate the very first Islay-limpics (and drink whisky).
Australia was the first of 120 countries worldwide to kick off festivities across the globe, with comedian Dave Thornton hosting the event.
A mite less serious than the London Olympics will be in July, but no less fiercely contested, the games followed the path of a traditional Highland Games but with an "Ardbeggian" twist.
The opening ceremony lit up the dreary day with bagpipers performing in Speedos and UGG boots before champion synchronised swimming team the Sydney Emeralds took to the pool. The main event was the Shorty Doggy Paddle Relay Elimination, with the coveted Pool Pony Grand Championship eventually won by the rather chuffed World of Whisky team.
Sporting prowess in action
To mark the occasion, a limited bottling of the legendary malt was made available to purchase in Ardbeg Embassies. The "Ardbeg Day" is a blend of two different styles of Ardbeg, re-racked into Sherry casks for 6 months. Bottled at 56.7% ABV this is a hallmark example of the peaty, smoky complexity that puts Ardbeg in the top flight of single malt whiskies.
The only official celebrations for Ardbeg Day in NZ were in Christchurch at Whisky Galore – the sole Ardbeg Embassy in the country. A rather Scottish day as well – according to the weather forcasts that is – it was the only place in NZ to try the exclusive Ardbeg Day bottling and have a crack at competing in the Islay-Iimpics.
To join the Ardbeg Committee, whisky enthusiasts can visit www.ardbeg.com.