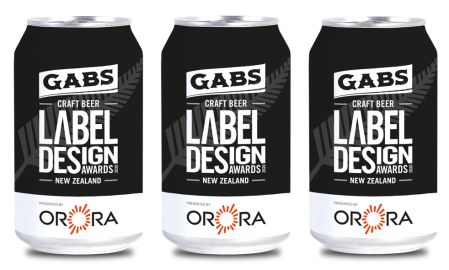 After the inaugural event in Australia proved so popular the GABS Design Awards are crossing the ditch so Kiwi breweries can also showcase the importance of labelling in the craft beer and cider industry.
The New Zealand awards, named the GABS Craft Beer Label Design Awards Presented by Orora, are open now for Kiwi breweries and cider makers to submit one can or bottle design, released over the last year, for consideration.
Head here to submit.
Judging for the Awards will encompass two key phases: a People's Choice poll where members of the public can review an online gallery of all submissions before casting their vote; and from that, a shortlist of 10 designs will be considered by an expert panel of some of New Zealand's highest regarded creatives to decide the ultimate winner.
The top 10 shortlisted breweries will share in an $8,000 prize pool. The winner of the GABS Label Design Awards will take home the 'Orora Golden Label Trophy', a free set of printing plates for their next print with Orora. All other finalists will receive a product innovation design and manufacture package with Opal Specialty Packaging.
Key Dates
Design Submissions: Closing 5pm 30 October at

gabshub.com

People's Choice Voting: 30 October – 13 November at

gabsfestival.com

Expert Panel Review: 16 – 27 November
Winner Announcement: 4 December
"Every year, there are numerous craft beer awards celebrating the best-in-class beers brewed around the country. Highly trained judges are looking at the style, clarity, flavour profile, aroma and mouthfeel. They're looking at what goes inside the can or bottle. But what about the outside?," GABS' Craig Williams said.
"That brilliantly executed artwork that first catches a craft beer lover's eye. That pop of colour, witty copy, and bold design that leaps off the shelf. In the world of craft beer, first impressions count. And it's time to celebrate the creativity of the designers and marketers behind those important moments."
Following 120 entrants and an avalanche of public votes, Adelaide's Little Bang Brewing Co and designer Matt O'Connor took out the inaugural Australian GABS Can Design Award for their 'Face Inverter' Citrus Super Sour beer can label. (read our story here).