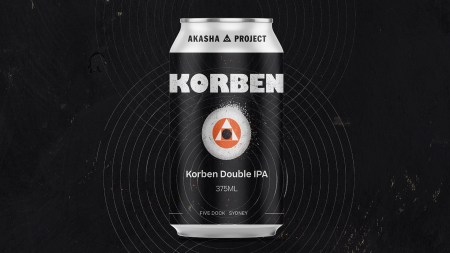 If you're new to Sydney's Akasha Brewing but want to know all that they're about, look no further than their Korben Double IPA (8.5%). It's so indicative of the tenets to brewing great beer they hold so dear, it's as if they've canned themselves into this latest release of the brew they consider their flagship, their signature beer.
First up, its fresh – a paramount for Akasha. Many wouldn't mind this release, that's been around since the Five Dock brewery's inception in 2015, to be an Akasha staple. But as always it's been held back sparingly by the brew team, set free now as another instalment in their newly minted Akasha Project limited releases series to ensure it's consumed as they'd like it before it is brewed again, whenever the fancy takes them. Indirectly, such rarity, for the sake of freshness, also serves to only further enhance Korben's reputation.
Next, its regal, golden amber hue looks beautiful, displaying another of their cornerstones – quality. And you just know it's going to be good before you've even tasted it, let alone caught a whiff.
Those aromas showcase their favorite hops – Mosaic, Simcoe and Centennial – in all their American glory, with big, pulpy passionfruit sashaying across the senses before a tropical accompaniment joins the conga-line to a beat kept tight by a band of quality ingredients.
The flavours only serve to back the preceding tenets up, as boldness, quality and freshness combine in perfect harmony as a moreish richness and thirst inducing bitter back-end play the denouement.
And before you know it, it's gone from the glass, such is its ease on the palate. But the warm embrace of the beer's booze, and the founding principles of the Five Dock brewery, remain firm in the memory.
Hopefully this beer will still be being released in limited numbers come the 23rd Century – so its namesake, Korben Dallas from sci-fi film The Fifth Element, played by Bruce Willis, can enjoy its stature in the age that he lives.