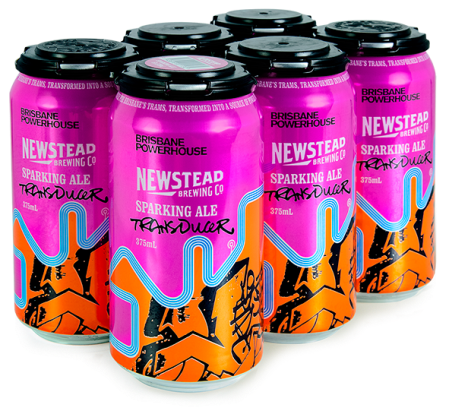 Newstead has unveiled the newest addition to its range, the 'Transducer', a classic Aussie sparkling ale that pays tribute to a Brisbane icon.
Half a century since the last trams rolled along Brisbane's streets, Newstead has partnered with Brisbane Powerhouse to create the beer.
Now an arts and cultural hub, back in its heyday the Brisbane Powerhouse – on the New Farm reach of the Brisbane River – powered the tram network which crisscrossed Brisbane between 1885 and 1969.
As for the name? "A transducer is a device that transforms one form of energy to another,'' explains Newstead Brewing Co. brand manager Darren Magin.
"This beer is a hat tip to an iconic institution in the Brisbane arts scene and a special chapter of Brisbane's history. At Newstead Brewing Co. we like to champion where we come from and this opportunity to partner with Brisbane Powerhouse to support the arts scene is a great fit.''
The 4.9% ABV beer – which bagged a silver medal at the recent Royal Queensland Food & Wine Show – is made from local ingredients with "tropical hops, a delicate yeast, delivered on a pale malt base".
"We wanted to make a beer in a true Australian style,'' Darren said "It's a modern-day twist on a classic.''
The visually "shocking'' orange and pink 375ml cans are a nod to Brisbane Powerhouse's heritage and its link to Brisbane transport.
"Local nostalgia is something Newstead Brewing Co. is proud of and likes to celebrate, hence the tramlines on the can artwork,'' Darren said.
"We have even incorporated the graffiti which became a signature of Brisbane Powerhouse during its dormant decades before it was transformed into an arts and cultural hub in 2000."
Brisbane Powerhouse CEO Fiona Maxwell said the Newstead Brewing Co partnership is an exciting new joint venture for Brisbane Powerhouse.
"It's not every day you have the opportunity to collaborate with an iconic local brewery to create your very own award-winning brew," Maxwell said.
"We look forward to not only putting this can in the hands of new audiences, but sparking a new energy with audiences past, present and future."
The Transducer is available now at all good beer retailers throughout south-east Queensland.