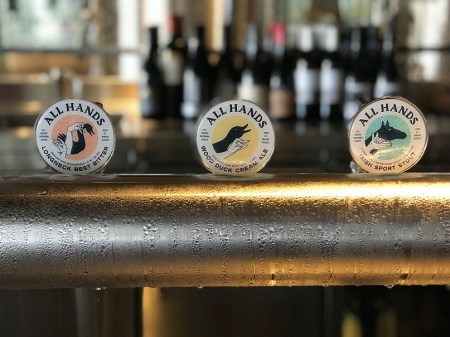 By Tam Allenby and Vanessa Cavasinni, Australian Hotelier
All Hands Brewing House will officially open for trading today (Thursday 23 November), adding a brewpub – with a hospitality-led approach – to what is a growing area of Sydney.
Red Rock Leisure purchased the King Street Brewhouse in Sydney's Cockle Bay almost four years ago, and shut the venue down six months ago for a re-think of the space.
According to head brewer Sam Clayman – who has been retained from King Street Brewhouse – All Hands is a "big upgrade" from the last iteration of the space, with Red Rock Leisure having invested heavily in both a new fit-out and staff training: "It's very much an upgrade in every sense, both of the venue and the experience," Clayman told Beer & Brewer.
The brewpub's core range consists of five beers: a Lager ("brewed using a lot of noble hops with a very soft bitterness"), a dry Irish stout, an English bitter ("which is essentially our pale ale, sitting at 4.1% so nearly mid-strength but with a lot of hop character"), an IPA made with a mix of Australian and English hops, and the popular Wood Duck cream ale, which has also been retained from the King Street days.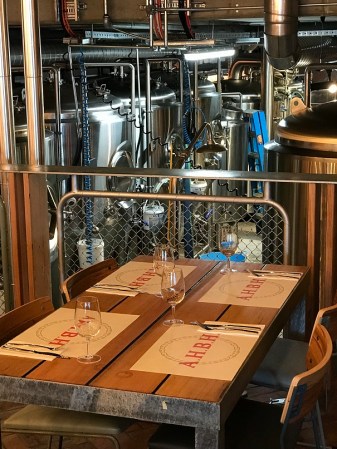 "Our flagship beer is a cream ale that we serve on nitrogen, and pours like Guinness with a real creamy edge," explained Clayman. "It's smooth, easy-drinking and outsells everything else by about three-to-one.
"It appeals hugely to the masses, and we get commercial lager drinkers who just switch over and drink that – at lunch all the corporate types will absolutely crush it, it's amazing.
The 10-hectolitre brewery will also produce a rotating range of three seasonal beers – but according to Clayman, one of three will always be a saison, albeit brewed with a different yeast strain each time.
"We have a standard base beer for our saison – all the malt and hops is always going to be the same – but every few batches we're going to change the yeast, because there's about 50 different strains of Saison yeast out there to use," he said.
"It's kind of an educational series, so every few months you can come in and see what kind of character you get out of each yeast strain – that will be fun for the enthusiasts and for us as well."
All Hands will also launch with an American red ale and an American wheat, with plans to rotate every "two to four months, or every two to three batches – whichever comes first."
"Our core range is designed to be a broad array of flavours in the offerings and styles, but not necessarily your 35%, 400 IBU type of beer, because we don't have the luxury of distributing our risk over a lot of different venues – we have to sell everything here.
"But both of us [brewers] are really into doing a bit more 'out-there' beers – some big imperial stouts and we're keen on sours too – and our thinking is that one of our two seasonal beers will always be well outside the norm, and one a bit more approachable but still different from the rest of the beers," Clayman added.
Food and beer pairing is another big focus of the venue, with Clayman writing beer descriptions and helping to train staff on the matching characteristics of the All Hands beers.
"We've got a food menu which is really well suited to matching our beers, and we've got a variety of styles – so if someone is interested enough to match their food with beers they definitely can do so.
"We now have table service, our staff are going to be really well trained for those food pairings, and all about the beer so there's someone standing at your table telling you about each beer and what it would go well with."
With prime real estate on King Street Wharf on the edge of the CBD, the location has always been a massive attraction for tourists and domestic day-trippers, but AnnetteVerhoeff, Group Operations Manager for Red Rock, says that the demographic mix is changing.
"Before we closed – and we think will continue when we re-open – we did have a big local following of people that live, and mainly work in the area. Especially now with Barangaroo, there are so many more office spaces going up around here. Our week day lunches are all pretty much corporate.
"We're in the nice position of having a mix of the walking-past trade of tourists and locals and day trippers. It's a great all-round location."