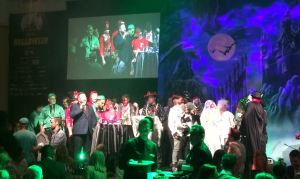 The country's leading liquor brands, venues, retailers and bar teams were honoured last night at the 25th annual Australian Liquor Industry Awards (ALIA).
Members of the on- and off-premise liquor sectors from all around Australia gathered at Randwick Racecourse in Sydney to celebrate the industry's night of nights, with this year's theme Halloween.
The proceedings kicked off with pre-drinks by Coopers; throughout the night, guests were treated to networking bars from Australian Brewery, Coopers, Pimm's, Rum Co. of Fiji, T'Gallant and Squealing Pig. The night culminated with an after party sponsored by Mister Mixer.
You'll find the full list of winners at ALIA 2018 across the beer and cider sector below.
ALIA – Beer and Cider winners 2018
Full Strength:
Winner – Great Northern Original
Highly Commended – Carlton Draught
Mid & Low Strength:
Winner – Iron Jack
Highly Commended – Great Northern Super Crisp
Low Carbohydrate:
Winner – Coopers Clear
Highly Commended – Hahn Super Dry
Premium Domestic:
Winner – Furphy Refreshing Ale
Highly Commended – Coopers Pale Ale
Premium International:
Winner – Asahi Super Dry
Highly Commended – Peroni Nastro Azzurro
Mainstream Craft:
Winner – James Squire 150 Lashes Pale Ale
Highly Commended – Mountain Goat Steam Ale
Independent Craft:
Winner – Young Henrys Newtowner
Highly Commended – Stone & Wood Pacific Ale
Cider:
Winner – Pure Blonde
Highly Commended – Young Henrys Cloudy Cider
Best Marketed Beer or Cider:
Winner – Great Northern
Highly Commended – Furphy Refreshing Ale
Best Draught Product:
Winner – Stone & Wood Pacific Ale
Highly Commended – Young Henrys Newtowner
Best Beer List:
Winner – Royal Albert Hotel, Surry Hills, NSW
Highly Commended – The Local Taphouse, St Kilda, VIC
Off-Premise Supplier of the Year – Asahi Premium Beverages