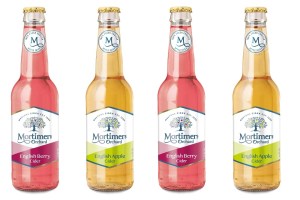 By Deborah Jackson, National Liquor News
Australia has become the only country worldwide to offer Mortimers Orchard English Apple and English Berry Cider in both 50L kegs and 330ml bottles.
Mortimers Orchard launched in the UK in 2015 and is an expertly balanced cider made from 100 per cent fresh English apple juice.
It is crafted by Westons Cider, an independent and family-owned cider maker at their Mill in Herefordshire, England.
Ian Cameron the Commercial Director at Westons said, "With fruit cider now accounting for 13 per cent of the Australian market, cider lovers are seeking authentic crafted ciders".
Both English Apple and English Berry ciders have a four per cent ABV and both won bronze medals in the 2018 Ciders Australia Awards.
"The premium apple cider segment is the fastest growing price segment with volume +10.8 per cent YoY," said Cameron.
Mortimers Orchard English cider is a premium cider, produced by Westons fifth generation family cider maker, Guy Lawrence.
"With over 15 years' grounding, Guy decided to gain some global expertise and in 2007 left for New Zealand. He worked for Hawkes Bay Brewing Company and it was there that he really developed his own style with the freedom to make his own range. The results were clear to see; globally recognised, award-winning ciders. After two years overseas, Guy returned to the family business where he has been creating award winning ciders ever since. We hope that you enjoy his latest creation."
Mortimers Orchard English Apple and Mortimers Orchard English Berry retail for $18.99 per six-pack and are now available nationally through Westons Australia, which can be contacted on www.westonsau.com or 08 9381 2613.