Forest for the Trees, a new brewing business dedicated to farmhouse, sour and wild beer styles, has been launched.
Forest for the Trees will join Stone & Wood Brewing Company, Fixation Brewing, Square Keg and Granite Belt Cider in the Fermentum Family of Businesses. The brewery's first beer is a Saison, which is available in 750ml bottles in limited quantities from Square Keg.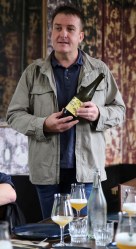 The new venture is led by Brad Rogers, who is now handing over the brewing responsibilities at Stone & Wood, which is celebrating its 10th anniversary this year.
"When we thought about this beer we wanted it to be a really beautiful beer," says Rogers. "It has a nice thick, white head. That's what a saison would traditionally  look like… really thick and rich and aromatic. The aromatics are very much driven by the yeast fermentation. There is no bacteria in this beer at all. That yeast produces that amazing aromatics.
"We did get the mortar and pestle out. We do grind of spices in there – cinnamon, star anise, cardamon – it's not supposed to be one flavour that jumps out. We want it to be really nice and balanced, and complement and accentuate some of those yeast flavours."
Forest for the Trees is currently being brewed at Stone & Wood in Byron Bay, but there are plans for it to eventually have a home of its own, with location opportunities currently being explored.
"All of Fixation was brewed at one of the two Stone & Wood breweries and now it has its own home now in Melbourne," adds Rogers. "That's taken two and a half years to get running and we'll do a similar thing with this. We have some things we want to play with. It's all about barrels, food and getting different products together.
"When we get the ability to roll out some of this out then we will, we'll trickle it out, but it's something we want to go and say here's 10,000 cartons. We want it to be quite a limited release product. Keep people wanting."