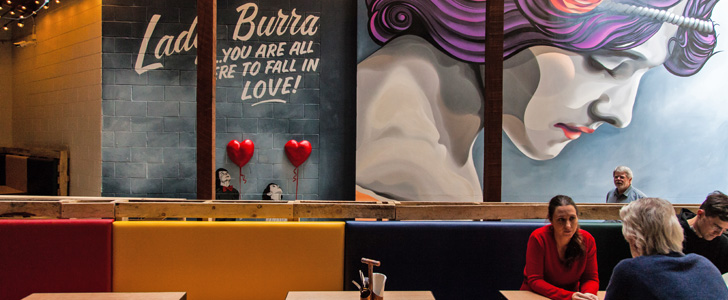 Written by Jack Baldwin
Lady Burra Brewhouse opened in Adelaide over the weekend. It's the first working brewery situated in the city, offering its own range of brews as well as a staunch food offering built around them.
The long-awaited launch has lifted an air of mystery that has hovered over its build site for months. Owner Nick Murphy said he was trying to give the character of Lady Burra an enigmatic feel, provoking an image of frontier from South Australia's earlier days.
Posters adorned construction fences asking city-goers, 'Who is Lady Burra?' Well, now we know.
"I've always liked the ambience and the sort of crowds that microbreweries pull. I've been to a lot of them and always had an interest in making beer," said Murphy.
"Put it all together, plus this tenancy that fitted well in the greater 30 year plan of Adelaide, and you have Lady Burra."
The brewhouse is located on the edge of Adelaide's redevelopment, adjacent to well-established food destinations Peel Street and Leigh Street. Topham Mall, where it resides, isn't quite as developed, but it's the next step in the city's vibrancy plan.
Lady Burra has launched with four beers, including a pale ale, dark ale, Irish red ale and Pilsener, but there are plans to have a revolving menu of artisan style brews for their more adventurous customers.
"Taylor Cox is our head brewer. He's ex-Kooinda, a Melbourne brewery. We worked together to develop the beers. It's a combination of selecting beers that are sessionable, but he has a huge passion for artisan beers. Over the next six months you'll see a lot more from Taylor," said Murphy.
Miguel Sa is front of house manager and by chance, his mother is the brewhouse's chef, serving up petiscos, the Portuguese cousin of tapas.
"There's a lot of sharing food," Sa said. "Everything is going to go with the beer. We use our beers to marinate or incorporate in the recipes. We're going to be the first place in South Australia to have beer cocktails, there's about eight or nine on our cocktail list."
The brewhouse is open for breakfast, lunch and dinner most days, with a couple of late nights on Friday and Saturday where the bar comes in to its own.
"We always wanted a Southern European feel," said Murphy. "That kind of food goes well with beer and the culture suits the venue because we've got the al fresco area and everything.
"What a coincidence that we've got Miguel's mother over. They've always had successful restaurants in Portugal. The moment they mentioned it to us, we realised it matched perfectly with what we wanted to do. It's unique in Adelaide. She's so passionate about food – the first time we saw her she rocked up with Portuguese custard tarts that she'd made that morning. That was that."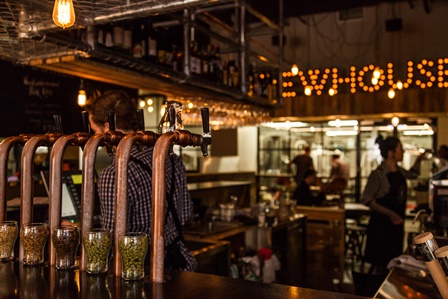 The interior keeps up the frontier aesthetic, crossing an industrial feel with recycled materials, including a bar made of old jetty sleepers and feature walls covered in apple crates. Well-known street artist Vans the Omega is responsible for the mural in the outdoor area.
There are outdoor and indoor areas that surround a central bar and the brewery itself is behind wide glass doors, meaning customers can keep an eye on happenings at all times.
As for what the first rotating beers on their artisan menu might be, Murphy is a little coy.
"We've been playing around in our pilot system with a macadamia dark ale. That'll hopefully be the first we crack. Oily nuts and beer are posing some hazards but we've got the flavour right – now we've got to make the texture happen," he said.