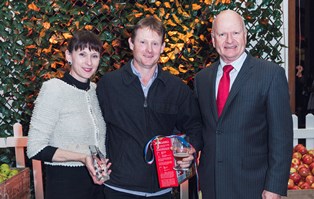 L-R: Janet Hollyoak, David Hollyoak and RAS President Robert Ryan OAM
Sydney brewerRedoak has capped off a stellar month, announced as the winner of Champion Bottled Beer for its Château Sour at the Sydney Royal Beer & Cider Show Awards.
Château Sour seems to be the beer on everyone's lips at the moment having just won Supreme Champion at the International Beer Awards in London earlier thismonth. Redoak Boutique Beer Cafe was also recognised earlier this week when theywon the 'Specialty Venue: Beer' category in the Sydney & Surrounds Savour Australia™ Restaurant & Catering Hostplus Awards for Excellence.
Master brewer and Redoak founder David Hollyoak and his sister Janet run the small, independent brewery, which specialises in craft beer. Château Sour uses Château malts which are made by one of Belgian's finest and oldest malting company. A Flanders red ale, it is brewed to the Flemish regional beer style.

Western Australia'sMash Brewing was another big winner at the Sydney Royal Awards, crowned Champion Draught Beer for its Russell brew. An American amber ale, this brew certainly packs a hop punch behind a solid malt sweetness, overall likened to Jaffa cakes due to its chocolate and orange/citrus characteristics.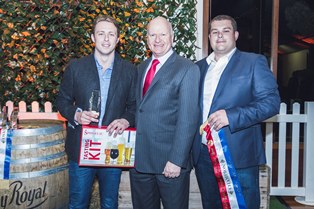 Champion Cider L-R: Oscar Bowen, RAS President Robert Ryan OAM and Hugo Bowen
In a competition first for the event, a Champion Cider trophy was awarded, withThe Barossa Valley Cider Co crowned the inaugural winner. Based in Nurioopta, South Australia, its Squashed Apple Cider was judged the standout in what is only the second year of judging cider as part of the show.
Chief judge Neal Cameron was impressed with the quality of brews, saying it was a sign of the continued drive for excellence in the Australian industry.
"The highlight of the competition was the superb quality of beers presented by the Australian brewing industry. With the largest number of entries in the history of the competition, the judges found an unprecedented seven Gold and 40 Silver medals amongst the entries," Cameron said.
"The Champion Draught Beer was a clear winner and well deserved. In the bottled beer category however, an extraordinary six Gold medals were judged to find the champion; each and every beer was outstanding and it proved almost impossible to distinguish between the top few beers.
"Overall, the Gold medals were representative across a broad range of styles showing that Australia is catching up with the rest of the world with the breadth of knowledge and experience of its brewers."
For a full list of results from the Sydney Royal Beer & Cider Show, click here.